Executive Assistant to the President in Charge of International Collaboration visits Eötvös Loránd University
February 22, 2019
Info
Keywords: International relations, University partnerships, Humanities
Professor Kiyomitsu Yui (Executive Assistant to the President in Charge of International Collaboration) visited Eötvös Loránd University in February. Founded in 1635, Eötvös Loránd University (also known as ELTE) is a comprehensive public university located in Budapest, Hungary. On November 10, 2016, Kobe University President Hiroshi Takeda visited ELTE and concluded an inter-university academic exchange agreement, making ELTE our first partner institution in Hungary.
First of all, Professor Yui, Professor Tetsu Ichizawa (Graduate School of Humanities), and Mr. Patrick Vittet-Philippe (Advisor to the Kobe University Brussels European Centre) visited the Dean of ELTE's Faculty of Humanities Prof. Dr. Gábor Sonkoly on February 1. The meeting was also attended by Benedek Varga (Director-General of the Hungarian National Museum) and Professor Simon Kaner (Director of the Centre for Japanese Studies at the University of East Anglia and Head of the Centre for Archaeology and Heritage at the Sainsbury Institute). The attendees discussed multilateral research cooperation among universities and museums related to cultural heritage studies.
On February 5, Professor Yui and Professor Ichizawa met with the Rector of ELTE Prof. Dr. László Borhy and Vice-Rector for International Affairs Prof. Dr. Imre Hamar, and both sides agreed to expand exchange between our institutions, incorporating the field of cultural heritage. This visit provided an opportunity to deepen our partnership with ELTE and we look forward to further developments in collaboration, such as student exchange programs.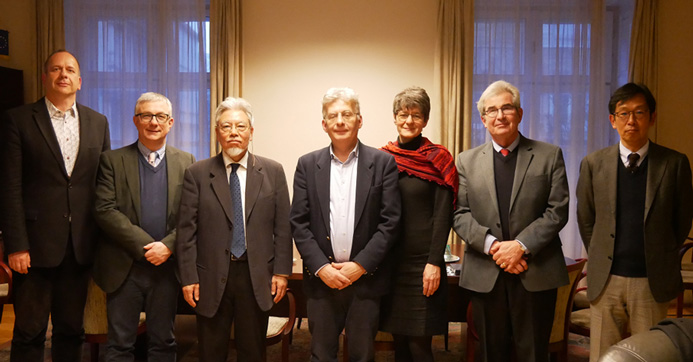 (International Affairs Planning Division)