Visit from the Delegation of the European Union to Japan
March 7, 2019
Info
Keywords: International relations, Grants & funding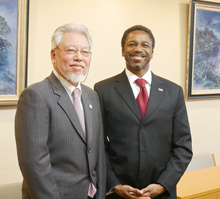 On February 21, Counsellor Errol Levy (Political Section, Delegation of the EU to Japan) visited Professor Kiyomitsu Yui (Executive Assistant to the President In Charge of International Collaboration). Their meeting was also attended from Kobe University by Professor Yuki Sekine (Director of the Center for International Education, Professor at the Graduate School of Law), Professor Ken-ichi Yoshida (Executive Director of the Kobe University Brussels European Centre and Professor at the Graduate School of Science, Technology and Innovation), Professor Kazunari Sakai (Graduate School of Intercultural Studies) and Associate Professor Eva Hanada (Center for EU Academic Collaboration).
The catalyst for this visit was Counsellor Levy's upcoming lecture at a Jean Monnet Symposium for high school students, which took place on February 22 at Kinran Senri High School in Osaka. Kobe University was the only institution in Japan to be selected by the European Commission as a Jean Monnet Centre of Excellence in 2015, and through this program we have actively promoted education and academic research related to the EU. The February 22 symposium was held as part of this program's outreach activities in Japan.
The meeting at Kobe University began with an expression of gratitude from Professor Yui for Counsellor Levy's contribution to the symposium. Professor Yoshida emphasized Kobe  University's strong presence in Europe, including our University's position as the first Japanese university to establish an office in Brussels, our active student exchange with European partner institutions, and participation in European Commission research and education funding schemes. Following this, Professor Sekine and Associate Professor Hanada introduced Kobe University's EU-related education programs such as the Kobe University Programme for European Studies (KUPES), the Jean Monnet Centre of Excellence, and EUIJ-Kansai. Professor Sakai gave examples of collaboration with Europe through his own research project on immigration issues, and noted the significance of strengthening collaboration with Europe in regards to issues such as immigration, a challenge faced by both Europe and Japan.
Counsellor Levy showed great interest in Kobe University's exchange activities with Europe, and expressed his wishes that professors from our University would continue to actively participate in European education and research funding schemes.
Following the meeting, Counsellor Levy participated in a campus tour led by a member of the Student PR Ambassadors, including an introduction to our University's history and organization.
With the Brussels European Centre as a base, Kobe University will continue to strengthen our academic cooperation with Europe.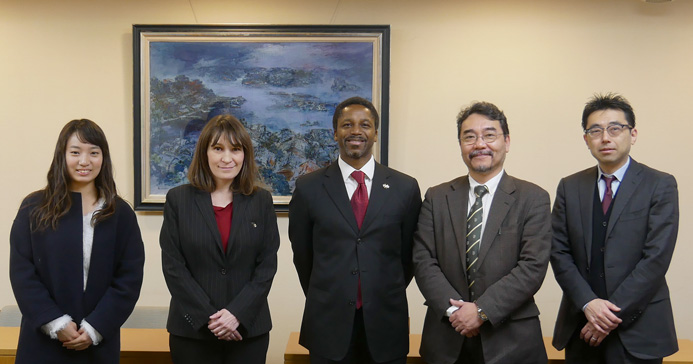 (International Affairs Planning Division)