Wanted: Student PR Ambassadors
April 4, 2019
Info
Keywords: International relations, Recruitment, Students, Public dialogue, Media & multimedia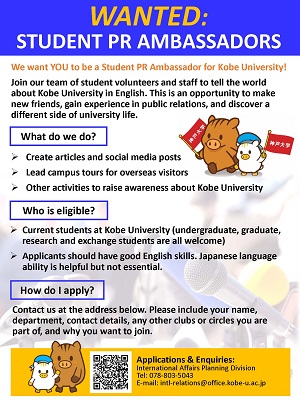 We are looking for outgoing, enthusiastic people to become Student PR Ambassadors. Join our team of student volunteers and staff to share your campus life experiences and tell the world about Kobe University. This is an opportunity to make new friends, gain experience in public relations, and discover a different side of university life.
What we do
Create articles and social media posts in English
Lead campus tours for overseas visitors
Other activities to raise awareness about Kobe University
See the Student PR Ambassadors' introduction page for more details.
Who can apply
Current students at Kobe University (undergraduate, graduate, research and exchange students are all welcome). Applicants should have good English skills. Japanese language ability is helpful but not essential.
How to apply
Contact us at the address below. Please include your name, department, contact details, any other clubs or circles you are part of, and why you want to join.
Contact
International Affairs Planning Division
Email: intl-relations[at]office.kobe-u.ac.jp
Tel: 078-803-5043
(International Affairs Planning Division)