Visit from the Chinese Consulate-General in Osaka
May 7, 2019
Info
Keywords: International relations, Collaborations
On April 18, Counselor Jinsong Wu from the Chinese Consulate-General in Osaka paid a courtesy visit to Kobe University President Hiroshi Takeda to express his congratulations regarding President Takeda's April 1 reappointment. The meeting was also attended from the Consulate-General by Vice-Consul Living Liu, and from Kobe University by Professor Masahiko Yoshii (Executive Vice President in Charge of International Exchange), Professor Lin Huang (Vice Director of the Center for Academic Collaboration), Professor Yunfang Hu (Director of the China Office), Professor Zhiwei Luo (Graduate School of System Informatics), and Mr. Tatsuya Kuwahara (Head of the International Affairs Department).
To begin the meeting, Counselor Wu commented on the large number of academic exchange agreements concluded between Kobe University and universities in China, and expressed his gratitude regarding our University's active exchange activities in China. He also expressed particular appreciation for our University's proactive cooperation in the 5th China-Japan Conference on Education, Exchange and Cooperation held at Awaji Island in Hyogo Prefecture, Japan.
During the meeting, the participants discussed the upcoming G20 Summit in Osaka and the opening ceremony of the China-Japan Youth Exchange Promotion Year, confirming that the industry-academia-government connections between China and Japan are growing stronger. Following this, the conversation moved to various Sino-Japanese exchange events scheduled for this year. President Takeda will represent Kobe University at the Japan-China University Fair & Forum in Chengdu, China, taking place in May, and Professor Yoshii will participate in a ceremony marking the 70th anniversary of the founding of the Dalian University of Technology in Dalian, China, scheduled for June. Counselor Wu introduced the "Dialogue in Hubei" exchange event taking place in August and the 6th China-Japan Conference on Education, Exchange and Cooperation in November, and the Consulate-General delegates expressed their hopes that Kobe University representatives would participate in these exchange events.
This academic year Kobe University representatives will continue to participate in many Sino-Japanese exchange events to promote academic exchange with China.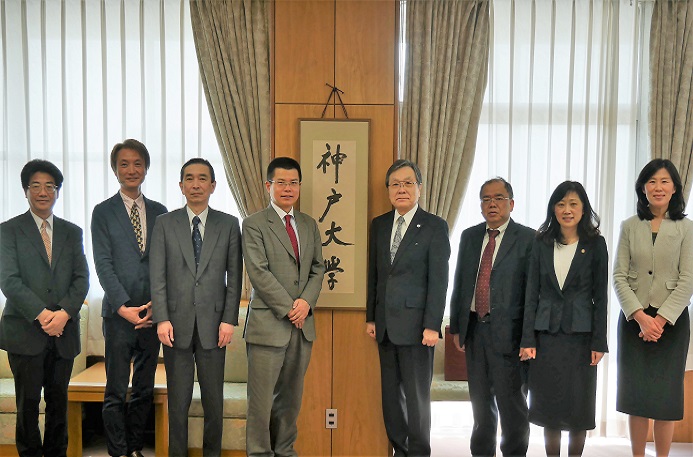 (International Affairs Planning Division)