Visit from the University of Lodz
May 27, 2019
Info
Keywords: International relations, Collaborations, University partnerships
On May 17, a delegation from the University of Lodz led by Dr. Elżbieta Żadzinska (Vice-President for Scientific Research) visited Professor Masahiko Yoshii (Executive Vice President in Charge of International Exchange). The meeting was also attended from Kobe University by Professor Kazunari Sakai (Vice Director of the Center for EU Academic Collaboration), Associate Professor Masato Karashima (Graduate School of Intercultural Studies) and Associate Professor Agata Wierzbowska (Graduate School of Economics).
Founded in 1945, The University of Lodz is one of the top universities in Poland. Its campus is located in Lodz, Poland's third largest city, and it encompasses 12 faculties. The University of Lodz has concluded academic exchange agreements with approximately 260 institutions worldwide, and Erasmus+ program agreements with approximately 400 institutions.
The meeting began with words of welcome from Executive Vice President Yoshii, followed by introductions from Executive Vice President Yoshii and Vice-President Żadzinska to their respective institutions' history, faculties, and international exchange activities. The discussion concentrated on international joint research, with the delegation from the University of Lodz introducing their Horizon 2020-focused initiatives and joint research achievements with universities in Japan. The meeting concluded after discussing the potential for joint research and student exchange between our institutions.
This year marks the 100th anniversary of the establishment of diplomatic relations between Japan and Poland, and we look forward to further active exchange between our institutions and nations.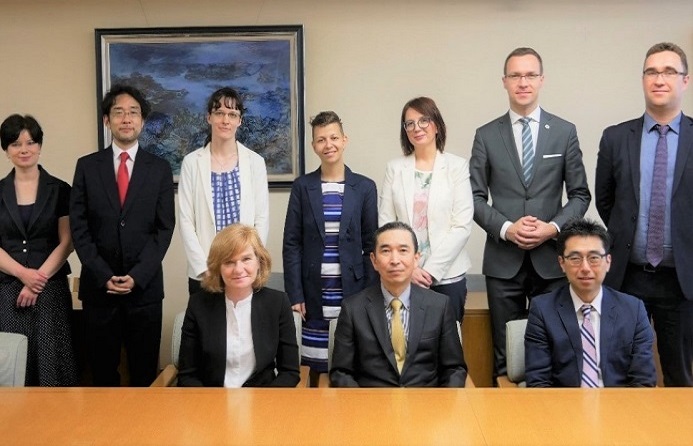 (International Affairs Planning Division)