Visit from Riga Technical University
May 27, 2019
Info
Keywords: International relations, Collaborations, University partnerships
On May 17, a delegation from Riga Technical University led by Dr. Igors Tipāns (Deputy Rector in charge of International Cooperation and Studies) visited Professor Masahiko Yoshii (Executive Vice President in Charge of International Exchange). Deputy Rector Tipāns was accompanied from Riga Technical University by Ms. Anna Sedova (International Cooperation Division Asia Specialist) and the meeting was also attended from Kobe University by Associate Professor Hirotaka Suzuki (Graduate School of Engineering).
One of Latvia's most renowned institutions, Riga Technical University (RTU) was founded in 1862 in the capital city of Riga. Our institutions have been partners since April 1991, when Kobe University's Faculty of Engineering concluded an inter-faculty academic exchange agreement with RTU's Faculties of Architecture and Construction, Chemical Engineering, Electrical Engineering, Instrumentation Engineering, and Mechanical Engineering. In February 2015 we concluded a new inter-university academic exchange agreement with RTU between our University's Graduate School of Engineering and Graduate School of Human Development and Environment, and RTU's Faculty of Basic Science. Kobe and Riga are sister cities, and in June 2014 they marked the 40th anniversary of their partnership with a "Riga Days in Kobe" exhibition hosted by Kobe City. The exhibition featured a corner titled, "Adventure of Light and Shape – Exhibition of Academic Exchange between Riga Technical University and Kobe University". In April 2018 Kobe City, the Embassy of Latvia in Japan and Kobe University's Graduate School of Engineering co-organized a panel exhibition titled, "Latvia. Architecture at Convergence".
During the meeting, Associate Professor Suzuki first introduced the exchange initiatives between our institutions, and the attendees confirmed the progression of our strong partnership. Executive Vice President Yoshii mentioned the smooth progress of exchange between the cities of Kobe and Riga, and expressed his expectation that active exchange would continue between both cities and institutions. Following this, both sides presented concrete proposals in a discussion about faculty and student exchange, and all present confirmed that we would continue to strengthen our collaboration.
We hope that this visit will contribute to further strengthening of the academic exchange between Kobe University and RTU, and deepening of the partnership between the cities of Kobe and Riga.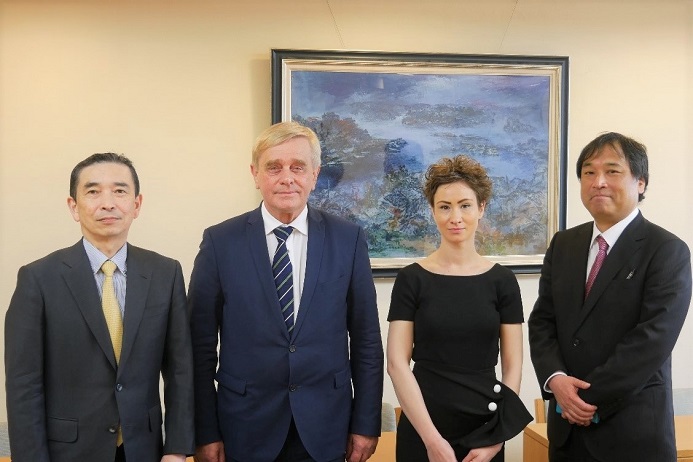 (International Affairs Planning Division)