President Takeda attends Japan-China Fair and Forum in China 2019
From May 24 to May 27, Kobe University President Hiroshi Takeda visited the city of Chengdu in China to participate in the "Japan-China Fair and Forum in China 2019" organized by the Japan Science and Technology Agency (JST). He was accompanied from Kobe University by Professor Yufang Hu (Director of the Kobe University China Office) and Tatsuya Kuwahara (Head of the International Affairs Department).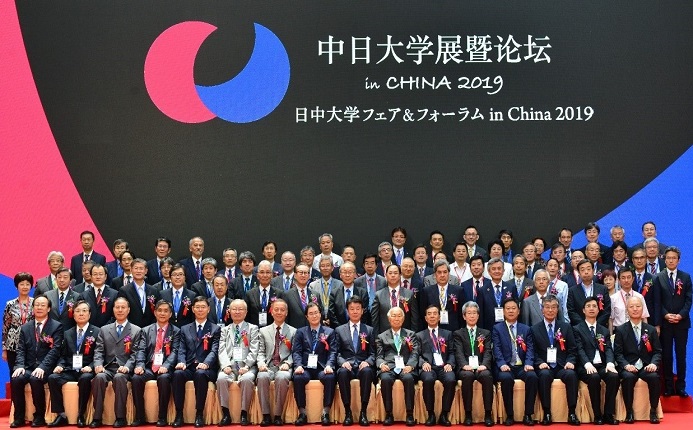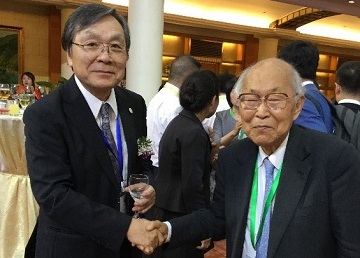 On the first day of the event (May 25) an opening ceremony and keynote speeches took place, and President Takeda participated in the Japan-China Presidents' Roundtable Conference and Japan-China Exchange Meeting. These sessions were held with the aim of presenting and discussing shared issues such as inter-university exchange, study abroad initiatives, and industry-academia collaboration. The opening ceremony featured greetings from host organization representatives Jianguo Zhang (Vice Chairman and Secretary General of the China Association for International Exchange of Personnel (CAIEP)), Akira Koda (Executive Director of JST), and Akito Arima (Director of the China Research and Communication Center at JST). This was followed by a forum including keynote speeches introducing science and technology in the host province of Sichuan, Japan-China exchange activities, and human resources training for industry in China and Japan.
The Japan-China Presidents' Roundtable Conference was divided into six breakout sessions, and President Takeda attended the session discussing faculty evaluation and training in universities. Chaired by Yumin Li (Vice President of Lanzhou University) in this session nine universities from Japan and China (Chiba University, Kobe University, Nagasaki University, the University of Shiga Prefecture, Yokohama National University, the Chinese University of Hong Kong Shenzhen, Lanzhou University, Southwestern University of Finance and Economics, and Xihua University) presented their faculty evaluation systems and human resource management initiatives for enhancing education and research. This was followed by an active discussion.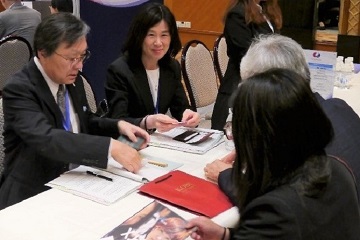 On the following day (May 26) President Takeda attended individual meetings between presidents of Japanese and Chinese universities. This session provided an opportunity for meetings and discussions between top-level university administration executives in Japan and China. There were many participants: 41 universities and higher professional schools from Japan, and over 40 higher education institutions from China. In addition to pre-arranged meetings with six universities (Xi'an Jiaotong-Liverpool University, the University of Hong Kong Shenzhen, Dalian University of Technology, the University of Electronic Science and Technology of China, Southwest University, and Jilin Normal University) our University was also approached by other universities including Jiangxi Academy of Sciences and Chongqing University of Technology. During each meeting they exchanged opinions on faculty and student exchange and developments in joint research, and in the case of universities with no previous exchange they discussed the potential for future collaboration.
This event demonstrated the participants' high levels of interest in industry-academia collaboration, innovation and training human resources for these aims, and it was a meaningful opportunity to build upon our University's relationships with Chinese institutions.
(International Affairs Planning Division)