Visit from Technische Universität Darmstadt
June 17, 2019
Info
Keywords: International relations, Collaborations, University partnerships
On June 6, a delegation from Technische Universität Darmstadt (TU Darmstadt) visited Kobe University and met with University President Hiroshi Takeda. The delegation was led by TU Darmstadt President Dr. Hans Jürgen Prömel, accompanied by Dr. Isabelle Harbrecht (Head of TU Darmstadt Liaison Office at Tongji University, Shanghai) and Ms. Pia Schmitt (Advisor, Asia & Tongji Strategic Partnership Coordinator, Deputy Head of International Relations & Mobility). The meeting was also attended from Kobe University by Professor Masahiko Yoshii (Executive Vice President in Charge of International Exchange and Evaluation), Professor Akio Tomiyama and Professor Hitoshi Asano (both faculty members of the Graduate School of Engineering).
Founded in 1877 in the city of Darmstadt, Germany, TU Darmstadt is a member of TU9, a network of outstanding German universities of technology (Technische Universitäten). Kobe University and TU Darmstadt have been in engaged in joint research since 2011, starting in engineering fields and expanding to include the humanities. In 2018 our institutions concluded an academic exchange agreement and memorandum of understanding for student exchange, both agreements encompassing multiple sciences and humanities departments. Student exchange will begin from this autumn.
During the meeting, President Takeda talked about his research experiences in Germany, and they discussed German research facilities such as the GSI facility in Darmstadt. President Prömel emphasized that while the EU is currently experiencing political turbulence, this situation makes it even more important to support the scientific ties between universities. Both sides engaged in a concrete discussion focused on expanding our collaboration by facilitating student exchange and study abroad programs. The attendees also exchanged views on the potential for a jointly-hosted academic workshop to encourage further research collaboration between our institutions.
This visit provided a valuable opportunity to confirm our shared goals for academic exchange, and we look forward to strengthening our ties with TU Darmstadt.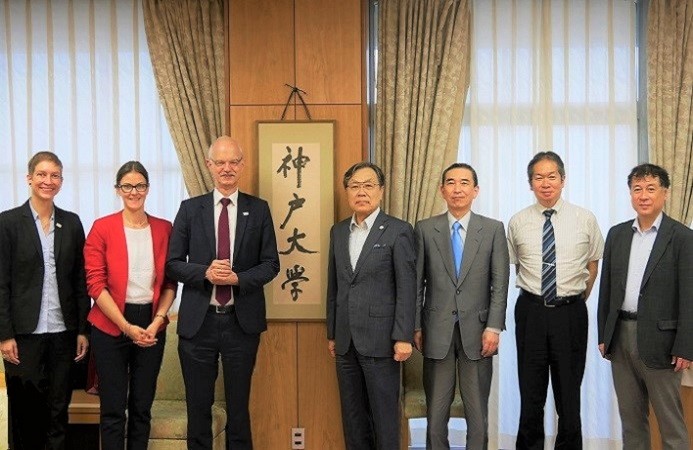 (International Affairs Planning Division)