International Staff Training Week 2019
June 18, 2019
Info
Keywords: International relations, Collaborations, University partnerships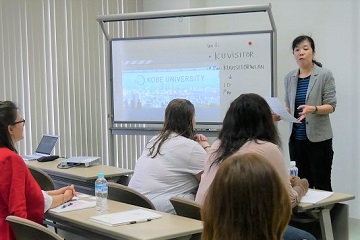 International Staff Training Week 2019 was held at Kobe University from June 10 to 14. This program aimed to promote international exchange at Kobe University and provide a platform to share knowledge, ideas and best practices in management of our University's international affairs. It was attended by administrative staff from our partner institutions, with a total of eight participants from five countries (Thailand, South Korea, Germany, France and Poland).
The week began with a speech from Professor Hiroko Masumoto (Vice President in Charge of International Education and International Collaboration) who expressed her hopes that this program would offer opportunities to strengthen the ties between Kobe University and partner institutions. Over the next five days participants attended a series of seminars on our University's international strategy and affairs, sparking lively discussions.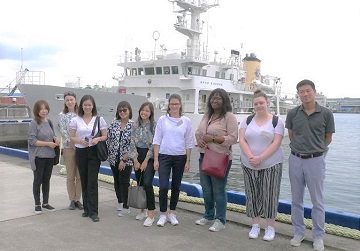 They also joined campus tours including the Graduate School of Maritime Sciences Marine Simulator System, Maritime Museum, and the Graduate School of Economics. As well as information about Kobe University, the training program was also designed to deepen understanding of Japan and its culture: Student PR Ambassadors led an introductory seminar on Japanese culture and a tour of Kobe city, and the participants spent a day visiting sites of cultural and historical importance in Kyoto.
The training week also featured a seminar for Kobe University faculty and staff with presentations from several partner institutions on their international exchange initiatives. Kobe University staff members from the advanced class of the University's annual English-language course attended this seminar and acted as guides during the visit to Kyoto.
International Staff Training Week 2019 provided a valuable opportunity for face-to-face discussions and networking with colleagues from all over the world. Kobe University will continue to promote internationalization of our administrative staff in order to become a more global and outward-looking institution.
  (International Affairs Planning Division)