SEAMEO RIHED-JANU study visit to Japan
June 28, 2019
Info
Keywords: International relations, Collaborations, University partnerships
On June 26, based on a memorandum of exchange between the Japan Association of National Universities (JANU) and the South-East Asian Ministers of Education Organization Regional Center for Higher Education and Development (SEAMEO RIHED), 14 university board members, faculty, staff and government strategy officers from Southeast Asia visited Kobe University. This was part of a visit to Japan in order to deepen their knowledge of Japan's systems and policies for higher education and research.
Their visit to Kobe University began with words of welcome from Professor Masahiko Yoshii (Executive Vice President in Charge of International Exchange), and a greeting in response from Dr. Anthony Ho (Pro Vice-Chancellor of Taylor's University), followed by self-introductions from each of the attendees. From Kobe University the meeting was attended by Professor Hiroko Masumoto (Vice President in Charge of International Collaboration and International Education), Professor Kan Kimura (Director of the Center for Asian Academic Collaboration), Professor Zhi-Wei Luo (Graduate School of System Informatics) and Professor Chiaki Ogino (Graduate School of Engineering).
Vice President Masumoto presented an outline of Kobe University, and Professor Luo introduced research projects, including the innovative example of robotics to tackle aging societies. A lively Q&A session and discussion took place, with questions from the delegation encompassing a range of topics: our University's initiatives to promote internationalization, exchange with Southeast Asian universities and institutions, and interdisciplinary approaches to common issues among Asian countries such as low birthrates and aging populations. Following this, the delegation visited Innovative BioProduction Kobe, where Professor Ogino gave them a tour of the facilities.
Kobe University is involved in various education and research exchanges with universities and institutions in Southeast Asia. We look forward to forming stronger partnerships as a result of this visit.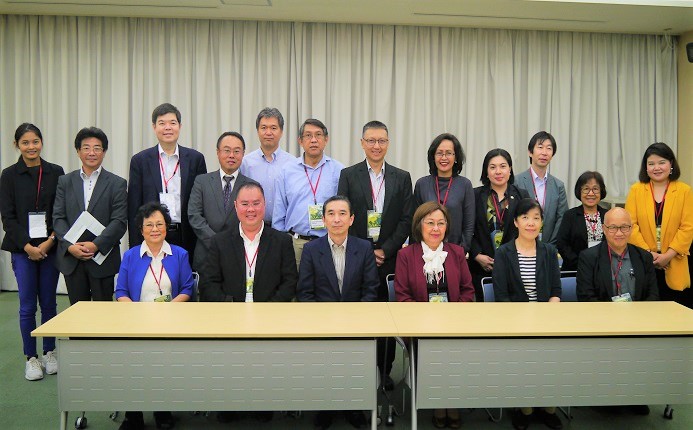 (International Affairs Planning Division)