Visit from the University of Southern California
Kobe University and the University of Southern California (USC) jointly implemented USC's "Business Japanese Course" again this year.
For two weeks from May 25 to June 9, Master Lecturer Ms. Yuka Kumagai (The Department of East Asian Languages and Cultures at the USC Dornsife College of Letters, Arts and Sciences), along with eight undergraduate students, visited Kobe University as part of a two-week educational course in Japan.
The USC students obtained practical knowledge of Japanese business and society, as well as learning about the differences in the culture and business customs between Japan and the U.S. through company visits in Tokyo, Osaka, and Kobe.
Facilitating exchange with Kobe University students is one of the purposes of the course. The USC students attended a cultural exchange meeting where they interviewed Kobe University students, which helped them to complete their research on their topics. They also participated in a welcome dinner party where they enjoyed talking to Kobe University students from various departments and built amicable relations.
At the end of the course, each USC student organized their research results from the various course activities to deliver a presentation in Japanese.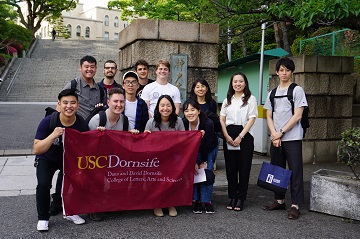 Program Coordination Section, Center for International Education