Visit from the Ambassador of the Republic of Lithuania to Japan
July 8, 2019
Info
Keywords: International relations
On July 2, Ambassador Extraordinary and Plenipotentiary of the Republic of Lithuania to Japan His Excellency Gediminas Varvuolis paid a visit to Kobe University President Hiroshi Takeda. He was accompanied by Kenjiro Tamaki (Director of the Japan-Lithuania Exchange Center) and Keiichiro Ushio (a staff member of the Honorary Consulate of the Republic of Lithuania in Osaka). The meeting was attended from Kobe University by Professor Masahiko Yoshii (Executive Vice President in Charge of International Exchange), Professor Shigeki Aoki (Dean of the Graduate School of Human Development and Environment), Professor Ken-ichi Yoshida (Executive Director, Centre for EU Academic Collaboration) and Associate Professor Hirotaka Suzuki (Graduate School of Engineering).
To begin with, His Excellency Varvuolis introduced the delegation's active schedule during their visit to Kobe. He then explained that the Republic of Lithuania is focusing its resources on biosciences research on a national level, and biotechnology is one of their key industries. He introduced Life Sciences Baltics 2020, an event scheduled to take place next year in Lithuania's capital of Vilnius, and presented President Takeda with an invitation for this event. Professor Yoshida then introduced our University's research projects in the biosciences.
Taking the academic exchange between Vilnius Gediminas Technical University and our University as an example, His Excellency Varvuolis also commented on the exchange between Kobe City and the Republic of Lithuania, and expressed his wishes that this active exchange continues.
We look forward to forming stronger academic ties between Kobe University and the Republic of Lithuania as a result of this meeting.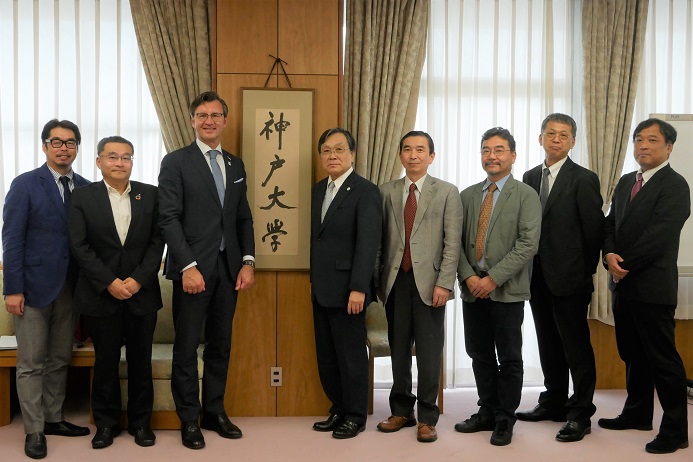 (International Affairs Planning Division)