Visit from the University of Liège
July 11, 2019
Info
Keywords: International relations, Collaborations, University partnerships
On July 5, a delegation from the University of Liège led by Premier Vice Rector Professor Jean Winand visited Kobe University and met with Professor Hiroko Masumoto (Vice President in Charge of International Education and International Collaboration), Professor Tomohisa Hasunuma (Director of the Engineering Biology Research Center) and Professor Chiaki Ogino (Graduate School of Engineering). Premier Vice Rector Winand was accompanied by Professor Eric Haubruge (Director and Head of the Laboratory of Gastronomic Sciences), Professor Andreas Thele (Director of the Center for Japanese Studies), Associate Professor Kanako Goto (Center for Japanese Studies), and Dr. Björn-Olav Dozo (Senior Researcher, Center for Belgian Francophone Literature Studies).
At the start of the meeting Vice President Masumoto welcomed the delegation and emphasized the importance of Kobe University's partnerships in Belgium. Professor Hasunuma and Professor Ogino then talked about recent collaborations between our University and the University of Liège in the field of biotechnology and engineering, including student and researcher exchange. Premier Vice Rector Winand introduced the various faculties and departments at the University of Liège, and the participants discussed the potential for exchange in the humanities fields, particularly in Japanese Studies. After the meeting the delegation visited Professor Ogino's research laboratories.
The University of Liège is a Belgian French-speaking public university founded in 1817. Our universities have been partner institutions since concluding an agreement for academic exchange in 2014, and we are actively involved in exchange spanning the humanities, social, natural and biomedical sciences. The University of Liège participated in our 2016 symposium in Kobe to commemorate 150 years of Japan-Belgium friendship, presenting a breakout session on cancer research. In January 2019 our Graduate School of Engineering signed a three-way agreement for a cooperative research and development platform with the University of Liege and Texas A&M University.
We look forward to further expanding our exchange with the University of Liège and other institutions in Belgium and Europe.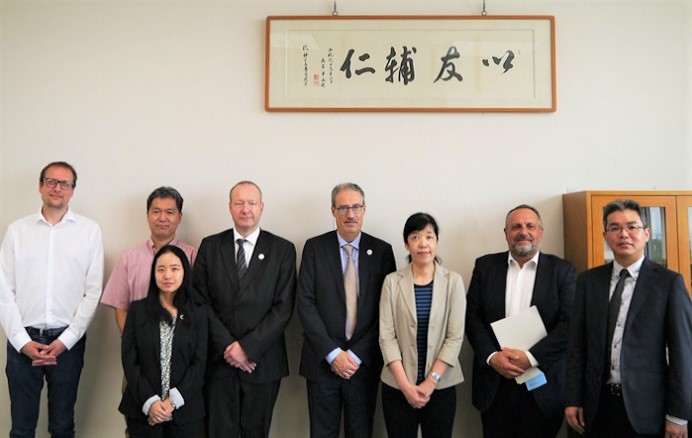 (International Affairs Planning Division)
Related links:
・Professor from Université de Liège in Belgium visits Graduate School of Engineering
・Symposium celebrating 150 years of Japan-Belgium friendship; Academic Lunch with Belgian King and Queen
・Kobe University Signed an Academic Agreement with the University of Liège