Visit from Chinese international officers and researchers through the SAKURA Exchange Program in Science
July 12, 2019
Info
Keywords: International relations, Collaborations
On July 10, a delegation from China's Ministry of Science and Technology and representatives from universities across China visited Professor Masahiko Yoshii (Executive Vice President in Charge of International Exchange and Evaluation). The meeting was also attended by Professor Lin Huang (Vice-Director of the Center for Asian Academic Collaboration), Toshinori Kawabata (Dean, Graduate School of Agriculture), and Project Professor Kenji Inoue (Office for Academic and Industrial Innovation, Institute of Promoting Academic Research Programs).
This meeting was part of a visit to Japan through the "Japan-Asia Youth Exchange Program in Science" (SAKURA Exchange Program in Science), an initiative organized by the Japan Science and Technology Agency.
The visit began with greetings from Executive Vice President Yoshii and a response from Professor Xiaoping Jiang (China's Ministry of Science and Technology, Department of International Co-operation, Division of Asian and African Affairs). This was followed by a general introduction to Kobe University, an overview of its initiatives for industry-university collaboration, and an introduction to the Graduate School of Agriculture. The meeting concluded with an active Q&A session featuring reports from representatives of participating Chinese universities and questions about all presentations.
Kobe University is involved in a range of academic exchange initiatives with Chinese universities and institutions. We look forward to building closer partnerships through this visit.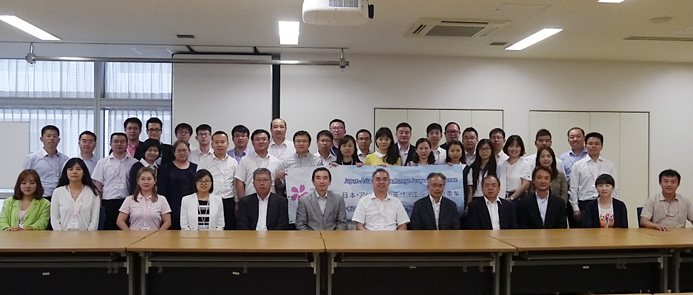 (International Affairs Planning Division)