Special lecture marks 20 years of partnership with Jagiellonian University
July 18, 2019
Info
Keywords: International relations, Collaborations, University partnerships
On July 5, the Jagiellonian University Vice-Rector for Educational Affairs Prof. Armen Edigarian gave a special lecture at Kobe University to commemorate the twentieth anniversary of our academic exchange agreement with Jagiellonian University (located in Kraków, Poland).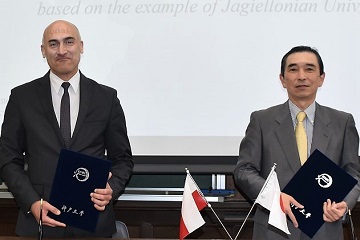 The event began with a signing ceremony for a memorandum of understanding on the joint lecture series between our institutions. In the opening speech of this ceremony Professor Masahiko Yoshii (Executive Vice President in Charge of International Exchange) introduced the partnership between Jagiellonian University and Kobe University and his vision for broader exchange involving many faculty members and students. Kobe University is expanding exchange through unit dispatch systems in which faculty members and PhD students visit partner institutions to give lectures. We implemented faculty mobility with the Jagiellonian University Center for Comparative Studies of Civilisations in 2014 and their Faculty of Law and Administration in 2016. The memorandum of understanding signed during Vice-Rector Edigarian's visit is a two-year extension of the 2017 inter-university agreement for the Lecture Series on Japanese and European Studies. This agreement expanded an existing program to incorporate a unit dispatch system in which both universities send faculty members to give lectures at the partner institution.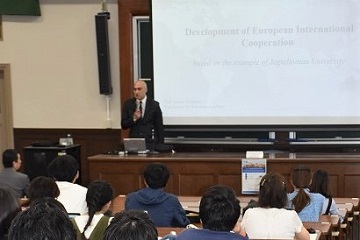 Vice-Rector Edigarian gave a lecture titled "Development of European International Cooperation - based on the example of Jagiellonian University" introducing the internationalization initiatives of European universities through Jagiellonian University's initiatives such as Erasmus+ and the creation of an inter-university network. Over 120 people attended, including Kobe University faculty, staff, and Faculty of Economics students studying European economics. The lecture was followed by a lively Q&A session.
After the lecture, Vice-Rector Edigarian paid a formal visit to President Hiroshi Takeda. Their meeting was also attended from Kobe University by Executive Vice President Yoshii, Professor Kazunari Sakai (Executive Director of the Kobe University Brussels European Center), Professor Narufumi Kadomatsu (Graduate School of Law), Associate Professor Agata Wierzbowska (Graduate School of Economics) and Visiting Professor/Professor Emeritus Kiyomitsu Yui (Graduate School of Humanities). They discussed the changing circumstances in Europe such as Brexit, exchanged information about university reforms under these conditions, and agreed to further enhance the exchange between our institutions.
Kobe University established a Liaison Office in Kraków in October 2015, and we are actively involved in exchange activities such as Erasmus+ with Jagiellonian University and other partner institutions in Central and Eastern Europe. We will continue to promote closer collaboration in education and research between Japan and Central and Eastern Europe.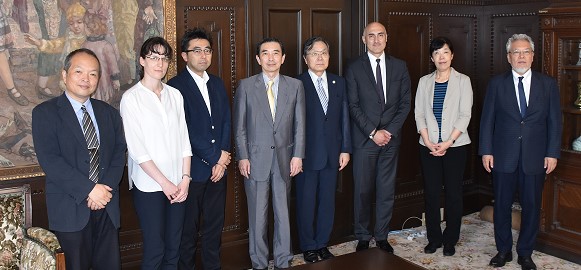 (International Affairs Planning Division)
Related links: