Visit from EU Ambassador to the Republic of Korea
July 18, 2019
Info
Keywords: International relations
On July 11, the Ambassador of the European Union to the Republic of Korea His Excellency Dr. Michael Reiterer visited Kobe University and gave a special lecture titled "The European Union: A Partner in Comprehensive Approaches to New Security Challenges". In the lecture he introduced the economic and security issues faced by the EU, and the importance of strategic cooperation between Japan and Europe in both the political and economic spheres. The lecture was followed by a lively Q&A session, with questions about EU policy on various global issues such as cyber security and the political climate of East Asia.
Following the special lecture His Excellency Dr. Reiterer met with members of the Kobe University Programme for European Studies (KUPES) and Student PR Ambassadors. He answered students' questions on the role of EU ambassadors in various countries and EU-Korea relations, noting the importance of considering issues from multiple perspectives, and expressing his hopes that Kobe University students actively participate in study abroad programs.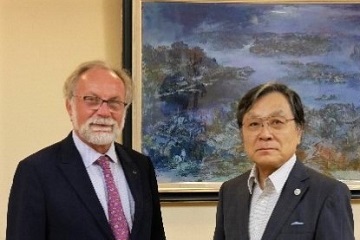 His Excellency Dr. Reiterer then paid a formal visit to Kobe University President Hiroshi Takeda, followed by a meeting with Professor Masahiko Yoshii (Executive Vice President in Charge of International Exchange), Professor Hiroko Masumoto (Vice President in Charge of International Collaboration and International Education) and Professor Kazunari Sakai (Executive Director of the Kobe University Brussels European Centre). Executive Vice President Yoshii outlined Kobe University's activities in Europe and collaborative programs with European universities, and Executive Director Sakai introduced the Kobe University Brussels European Centre Symposium to be held in October. His Excellency Dr. Reiterer gave some examples of initiatives in European universities and offered advice about internationalization in higher education.
Kobe University is actively engaged in research and education activities in collaboration with various universities and research institutions in Europe. We will continue to promote academic cooperation between our institution and European universities.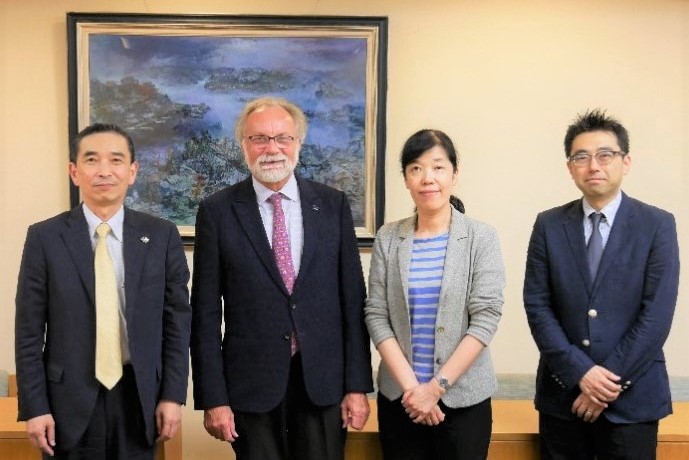 (International Affairs Planning Division)