Erasmus+ staff mobility programme: Professor Hashino visits University of Trier
July 26, 2019
Info
Keywords: International relations, Collaborations, University partnerships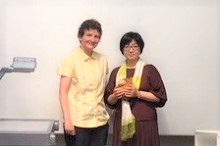 Professor Tomoko Hashino (Graduate School of Economics) visited the University of Trier for five days from June 28 under the Erasmus+ Staff Mobility Programme Agreement between Kobe University and the University of Trier. During the visit she held a lecture series titled "Economic History of Modern Japan" for undergraduate students of economics.
Kobe University and the University of Trier concluded an inter-university academic exchange agreement on June 2, 2015, followed by a memorandum of understanding for student exchange on November 2, 2015. Since then we have been actively engaged in academic collaboration and student exchange in the humanities and social sciences, and from 2017 our universities concluded an Erasmus+ partner agreement. We look forward to increased academic exchange with the University of Trier as a result of this visit.
Professor Hashino's account of her stay at the University of Trier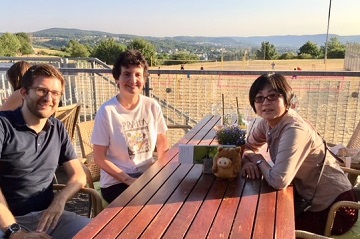 Located in southwest Germany, Trier is a historical city that has been inhabited for over two thousand years. It is about 30 minutes' drive from Luxembourg airport, and Roman Catholic influences can be seen throughout the city. The Department of Economics at the University of Trier is about 20 minutes' by car from the town center, a peaceful environment that is ideal for studying.
I give lectures in English for foreign students as part of my role at Kobe University, so I am used to talking about economic history to students without much knowledge of Japan. In this case the students were first year undergraduates, so I talked about various aspects of Japanese culture as well as anime and manga. Things that people in Japan take for granted were new concepts for these students – for example, the large amount of western-Japanese fusion food in Japan (such as hamburgers served with rice and miso soup), and the variety of religion-based events (such as Shichi-Go-San festival and Hatsumode shrine visits from Shinto, Christmas from Christianity etc.).
My lectures focused on the impact of the Edo era legacy and Western imported technology and learning on Japan's economic development. I myself reaffirmed that Germany, a late developer among European countries, strongly influenced Japan with its emphasis on education and industry policies. The famous Iwakura Mission also visited Germany. Students burst out laughing when I told them, "Japan learned a lot from Germany. I came here from Japan because I wanted to say thank you".
My host Prof. Dr. Xenia Matschke (Professor for International Economic Policy) received her doctoral qualification from the University of Wisconsin-Madison in the USA, and taught at the University of Connecticut. She is a talented researcher in the field of international trade and her research has been featured in prominent academic journals. As you can see from the photos, she is also an active organizer of colloquia. During my stay, a promising young researcher called Dr. Winkler visited the University of Trier and we held a colloquium. It was a very thought-provoking event on a topical theme: the impact of import and export booms on domestic manufacturing, especially workers.
In my own colloquium I talked about my current research, the comparative development of the Nishijin, Kiryu and Fukui silk-weaving districts in early-modern Japan. Professor Matschke invited professors from the Department of History, and a number of historians participated including the eminent Professor Lutz Raphael. There were many comments and questions that made me keenly aware of the need for more research in order to universalize our studies of Japan.
When providing dissertation guidance, I received questions in Japanese and English from students minoring in Japanese and Japanese studies. One student asked how to find materials to write a paper on migrant workers during Japan's period of rapid economic growth. She was an exchange student from Poland who spoke six languages, including Japanese. For students from Kobe University, especially from the Faculty of Economics, visiting the University of Trier would give them a chance to meet students from various countries, and I'm sure the experience would broaden their perspectives and increase their potential. Professor Matschke said that in the future she would like to conclude a Double Degree Program for an English-taught doctoral course with Kobe University's Graduate School of Economics.
Incidentally, in Germany when people express their appreciation at university lectures and presentations, rather than applauding they hit the desks with their fists. I was very happy when everyone hit their desks at the end of all our lectures and colloquia. I would like to visit again for research and education-based exchange.
(International Affairs Planning Division)