Visit from the Japan Foundation's Budapest Office
August 21, 2019
Info
Keywords: International relations, Collaborations
On July 23, Sanae Tada (Director of the Japan Foundation's Budapest Office) visited Kobe University and met with Professor Masahiko Yoshii (Executive Vice President in Charge of International Exchange). The meeting was also attended by Professor Hiroko Masumoto (Vice President in Charge of International Education and International Collaboration) and Professor Emeritus Kiyomitsu Yui (Graduate School of Humanities).
Kobe University and the Budapest Office have been working together on positive initiatives to promote mutual cultural exchange since collaborating on a November 2016 lecture meeting in the Hungarian capital regarding the Olympics. Ties between both organizations were further strengthened in 2017 with the launch of an internship program aimed at enabling students to gain international work experience.
During the meeting, Professor Emeritus Yui spoke about past exchanges and Director Tada expressed gratitude regarding the collaborations, in particular the internship program. She also stated that, as the accepting organization, she was grateful for the many excellent Kobe University students who used their initiative to ask questions. The two organizations also touched upon the circumstances surrounding the Hungarian higher education system in recent years and discussed the possibility of further joint hosting of international exchanges.
Director Tada also held a special lecture entitled 'Welcome to Budapest: The activities of the Japan Foundation's Budapest Office and Global Human Resource Development' at the Graduate School of Humanities on July 24. She explained about the organization's activities in Europe and the aforementioned internship program. After the lecture there was a discussion regarding possible future exchange projects. This was attended by Executive Vice President Yoshii, Vice President Masumoto, Professor Emeritus Yui, Professor Hiroshi Okumura (Dean of the Graduate School of Humanities) and Professor Noriyuki Inoue (Graduate School of Law).
Kobe University will continue to collaborate with the Budapest Office to further strengthen exchanges with Eastern European academic institutions.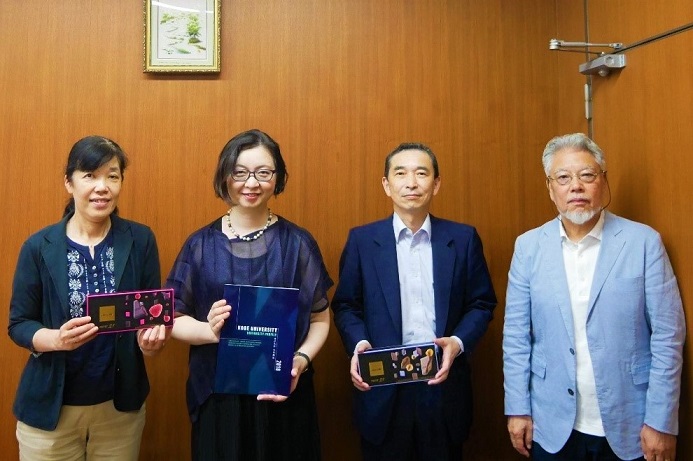 (International Affairs Planning Division)