The Japan Summer Program in Sustainable Development 2019 held in collaboration with Georgia Institute of Technology
Kobe University decided to implement the "Japan Summer Program in Sustainable Development 2019 (JSPSD)" in collaboration with the Georgia Institute of Technology (Georgia Tech) from this academic year.
This program aims to explore sustainable development issues and the challenges confronting both large cities and rural towns. Students from both universities participated in the same classes and worked together through Problem Based Learning.
Professor Brian Woodall (Sam Nunn School of International Affairs, Ivan Allen College of Liberal Arts, Georgia Tech), along with four other faculty members and 14 students, visited Kobe University. Four lectures, ("Introduction to Global Development", " Smart & Sustainable Mega-region", "Energy, Environment, and Society", and "Global Development Capstone"), were held during the two terms (the first term running from June 10 to June 27, and the second term running from July 1 to August 1). Approximately 60 Kobe University students registered for the program.
In addition to the regular lecture format, the classes were divided into several groups consisting of students from both universities, and group discussions were held about the themes of the projects that they were working on. On the last day of each lecture, students gave passionate presentations, followed by lively question and answer sessions.
Kobe University students' contributions were also posted on Georgia Tech's JSPSD website blog, which is updated weekly.
The program also provided an opportunity for international exchange between students from the two universities. Three field trips during the program period, as well as the farewell party on the final day, allowed students to form stronger friendships.
This program is expected to continue with the aim of facilitating even greater academic exchange between the two universities.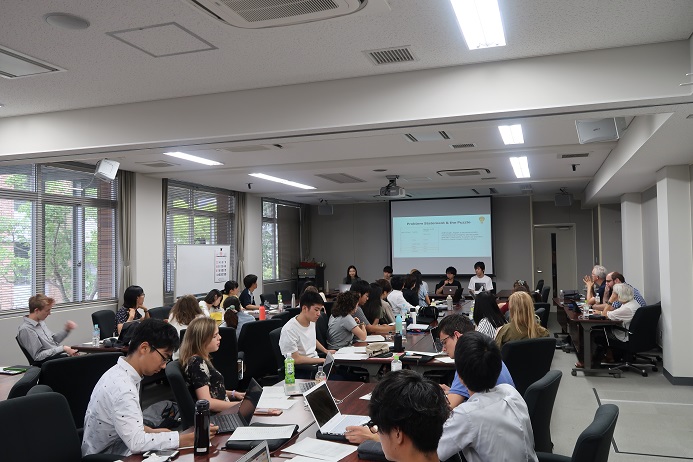 (Program Coordination Section, Center for International Education)