Kobe University takes part in inaugural KANSAI&HUBEI regional exchange event
August 27, 2019
Info
Keywords: International relations, Collaborations, University partnerships
The KANSAI&HUBEI 'Hubei Dialogue' exchange event was held from August 1 through August 3 in Hubei Province, China. The event was attended by Professor Masahiko Yoshii (Executive Vice President in Charge of International Exchange) and Professor Lin Huang (Deputy Director of the Center for Asian Academic Collaboration) from Kobe University.
This was the first exchange event held between the Kansai Region and Hubei Province. A total of 150 representatives from the Kansai region attended, including universities, media organizations, industries, local government bodies, China-Japan friendship groups and overseas Chinese groups. They visited cities such as Wuhan and Xiangyang in Hubei, and a wide variety of exchange activities took place during the event's three days.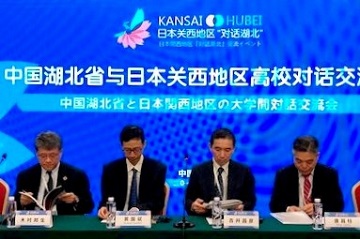 On August 1, there was a welcome reception hosted by the government of Hubei Province, followed by an opening ceremony and a general meeting on the second day. Beginning with the Provincial Governor, the mayors of Hubei's major cities made presentations regarding matters such as economic development, the introduction of foreign capital and relations with Japan. It was a large-scale meeting, with a total of 800 people attending. In the afternoon, the participating groups were separated by area for the 'Hubei Dialogue' section of the event program. Kobe University representatives attended a discussion and exchange meeting with other Kansai-based academic institutions and Hubei universities.
Executive Vice President Masahiko Yoshii and Professor Kunio Kimura (Vice President of Okayama University) made the opening greetings on behalf of the attending Japanese universities. Executive Vice President Yoshii spoke about the active exchange between Kobe University and Hubei's Wuhan University and Huazhong University of Science and Technology. Sixteen educational institutions from the Kansai Region and over twenty academic institutions from Hubei Province attended. This meeting between the universities provided a valuable opportunity for discussion regarding how to deepen educational, research and human exchange between Japan and China at a regional level.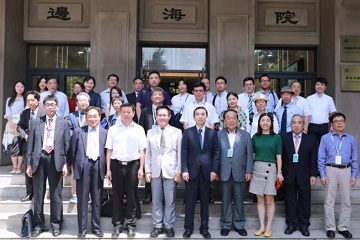 On August 3, Kobe University representatives visited two universities as part of a group tour, with a visit to Wuhan University in the morning and Hubei University in the afternoon. They also took part in a round-table discussion. Representatives from each University spoke about the current state of China-Japan relations, leading to a lively exchange of opinions about future collaboration opportunities.
Hubei is famous for being the center of 'The Three Kingdoms' culture and Wuhan is considered one of China's 'Top Three Furnace Cities'. While experiencing the hot weather, the Japanese and Chinese partner universities, industries and organizations that attended the event participated in varied dialogues that developed into passionate opinion exchanges.
Relationships between universities and other organizations throughout Asia and the World can be deepened through participating in regional exchange events. Hopefully this will result in the development of further cooperative partnerships.
(International Affairs Planning Division)