Visit from Warsaw University
September 3, 2019
Info
Keywords: International relations, Collaborations, University partnerships
Professor Masahiko Yoshii (Executive Vice President in Charge of International Exchange) welcomed Professor Agnieszka Kozyra (the Head of chair of Japanese Studies at Warsaw University's Faculty of Oriental Studies) to Kobe University on August 30. They were joined by Professor Emeritus Kiyomitsu Yui and Professor Yoshihiko Shiratori of the Graduate School of Humanities.
Founded in 1816, Warsaw University offers the highest level of education and research in Poland. Continuous academic exchange has been conducted between Kobe University and Warsaw University since the signing of the agreement in April 2004. In particular, there has been an active exchange of students from both establishments, beginning with the May 2004 transfer between Kobe's Graduate School of Intercultural Studies and Warsaw's Faculty of Oriental Studies.
Executive Vice President Yoshii and Professor Emeritus Yui shared their favorable impressions of Warsaw from their previous visits. After that, they discussed how to expand the exchange between each other's universities. They talked about plans for Kobe University professors to give guest lectures at Warsaw University and the possibility of running a workshop at either Kobe or Warsaw University. Professor Kozyra expressed forward-looking opinions regarding these ideas and both universities agreed to strengthen academic cooperation between their respective institutions.
Professor Kozyra also visited the Graduate School of Humanities, where the university representatives conducted detailed negotiations regarding the start of the next inter-faculty student exchange, in addition to the possibility of grant funding for joint research projects.
It is hoped that Kobe and Warsaw Universities can build upon their collaborative relationship as a result of this visit.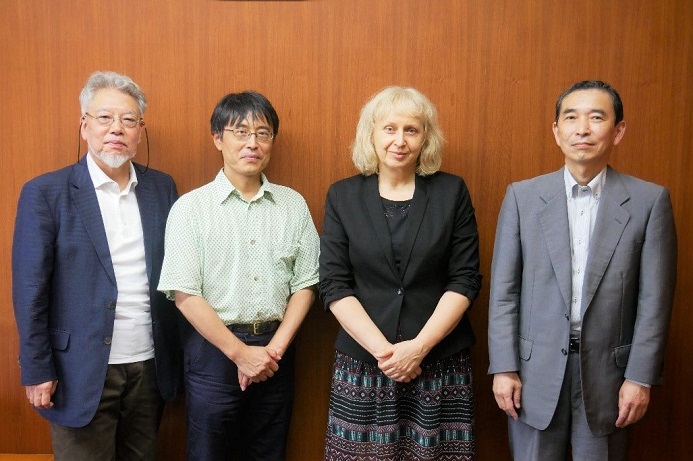 (International Affairs Planning Division)