Visit from Pertamina University
October 1, 2019
Info
Keywords: International relations, Collaborations, University partnerships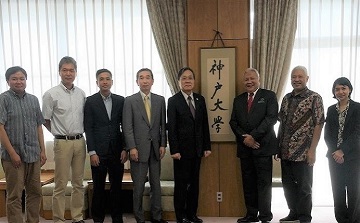 Rector Akhmaloka of Indonesia's Pertamina University visited President Hiroshi Takeda on September 17th. The meeting was also attended by Professor Masahiko Yoshii (Executive Vice President in Charge of International Exchange), Professor Chiaki Ogino and Project Associate Professor Prihardi Kahar (both from the Graduate School of Engineering).
Established in 2016, Pertamina is a private university in Jakarta, offering 15 undergraduate study programs across 6 faculties. It was founded by the Pertamina Foundation, which is run by Indonesia's major oil and gas company, with the aim of making world class contributions in energy business and technology fields. Academic collaboration and student exchange agreements will be concluded between Pertamina and three KU bodies (the Graduate School of Engineering, the Graduate School of Science, Technology and Innovation, and the Engineering Biology Research Center).
During the meeting, Rector Akhmaloka gave an overview of Pertamina University. Professor Ogino began a discussion on the possibility of valuable mutual exchange in the field of biomass research as part of the agreements due to be concluded between the universities. This led to a lively conversation centered on biotechnology, and both institutions confirmed their plans to deepen academic exchange.
It is expected that academic collaboration between Kobe University and Pertamina University will be strengthened as a result of this visit.
(International Affairs Planning Division)