Kobe University visits Hanoi's Foreign Trade and National Economics Universities
October 4, 2019
Info
Keywords: International relations, Collaborations, University partnerships
On September 9th, Executive Vice President Masahiko Yoshii (in Charge of International Exchange), Director Kan Kimura and Assistant Professor Tatsuya Maizawa (both from the Center for Asian Academic Collaboration) visited the Foreign Trade University and the National Economics University in Hanoi, Vietnam.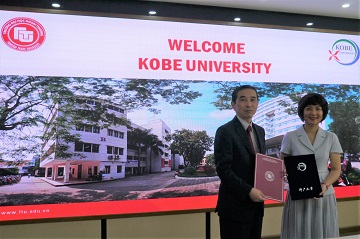 The Kobe University Hanoi Liaison Base was established within the Faculty of Japanese at the Foreign Trade University in April 2015. It aims to discover and cultivate young researchers through mutual research and academic exchange.
Vice President Pham Thu Huong welcomed the visitors from Kobe University. Memoranda were exchanged for the planned relocation of the liaison base to the Foreign Trade University's International Offices. They also discussed the hosting of the next symposium and student exchange. It was agreed that these would be of great mutual benefit.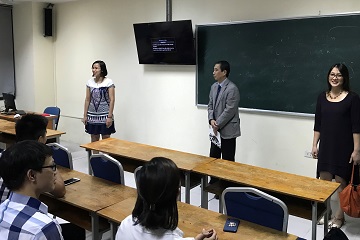 At the request of the Foreign Trade University, Executive Vice President Yoshii gave a lecture on the merits of studying abroad via the Graduate School of Economics' Double Degree Program. Around 50 students attended, and many expressed hopes of studying at Kobe.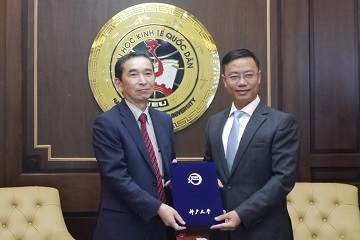 The Kobe University delegation was welcomed to the National Economics University by Vice President Bui Duc Tho. The 2007 agreement between the universities were renewed and possible mutual student exchange was also discussed. After that, the Kobe University representatives were given a tour of the campus, on which they had the opportunity to see lecture halls equipped with the latest facilities and observe student life.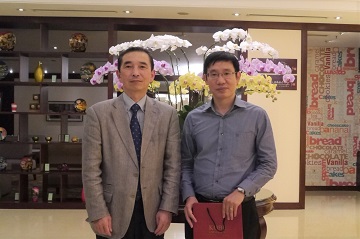 On September 6, they met Mr Le Viet Trung, the director of Kobe University Alumni Assocation in Vietnam. In the course of their conversation, Mr Trung talked about the difficulties he faced when studying in Japan, and about the careers of Vietnamese Kobe University graduates after returning to their home country. They also discussed developing Alumni Relations into a network that stretches from North to South Vietnam, encompassing the entire country.
Kobe University hopes to strengthen its collaborative relationships with both universities and Vietnam through mutually beneficial academic and research exchange.
[International Affairs Planning Division]