ELTE University Rector gives special lecture at Kobe
October 15, 2019
Info
Keywords: International relations, Collaborations, University partnerships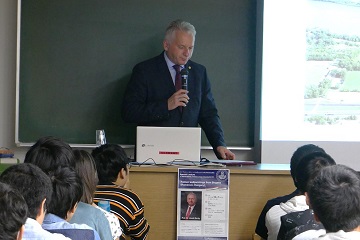 Kobe University was delighted to welcome Rector László Borhy of Eötvös Loránd University (ELTE) to give a special lecture on October 7.
Eötvös Loránd University was established in the Hungarian capital of Budapest in 1635. It became Kobe's first partner university in Hungary on November 10 2016, when Kobe's President Takeda visited ELTE to sign an academic cooperation agreement. Since then, the two universities have conducted student exchanges, as well as research collaborations in the fields of psychology, and historic and cultural heritage.
Fifty people attended Prof. Dr. Borhy's lecture on "Roman wallpaintings from Brigetio (Komárom, Hungary)", in which he introduced his specialization in Roman Art and enlightened the audience about Roman Empire era wallpaintings.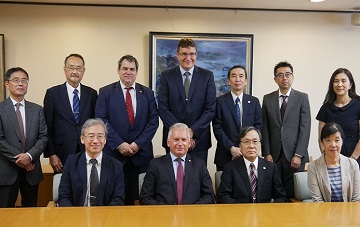 After his lecture, the Rector met with Kobe University's President Hiroshi Takeda for a productive discussion regarding past and future collaborations between our universities. University and faculty directors joined their meeting. Rector Borhy started by discussing the continuation of the historic and cultural heritage research collaboration that resulted from his visit to Kobe University in 2018. The representatives talked about holding a seminar together and plans for an upcoming joint session at The 10th Anniversary Kobe University Brussels European Centre Symposium on October 22. They also touched upon mutual academic and student exchange schemes, such as Erasmus+ and the Double Degree Program. Both ELTE and Kobe University expressed hopes of further deepening their continued partnership.
The October 7 meeting between ELTE's Rector and Kobe's President was attended by:
From ELTE:
Professor Dr. Imre Hamar (Vice-Rector for International Affairs)
Chancellor Dr. Scheuer Gyula
Professor Masanori Yamaji (former Head of Japanese Studies)
From Kobe:
Professor Masahiko Yoshii (Executive Vice President In Charge of International Exchange and Evaluation)
Professor Hiroko Masumoto (Vice President in Charge of International Education and International Collaboration) 
Professor Hiroshi Okumura (Dean of the Graduate School of Humanities) 
Professor Yoshihiko Shiratori (Vice Dean of the Graduate School of Humanities)
Professor Kazunari Sakai (Executive Director of the Kobe University Brussels European Centre / Graduate School of Intercultural Studies)
Professor Yoshiko Kato (Graduate School of Human Development and the Environment)
(International Affairs Planning Division)