Kobe University joins the Japan-Australia University Dialogue 2019
October 21, 2019
Info
Keywords: , Collaborations, University partnerships
The Japan-Australia University Dialogue 2019 was held on October 9 at Osaka University with the theme of "Reaching higher – lifting Japan/Australia university and industry collaboration to new heights". The event was jointly held by The Japan Association of National Universities and Universities Australia. It attracted participants from 22 Japanese national universities and 6 Australian academic institutions, in addition to government and industry representatives from both countries. Kobe University's Professor Lin Huang (Deputy Head of the Center for Asian Academic Collaboration) was in attendance.
The event began with an opening addresses from Japanese and Australian universities, MEXT (the Japanese Ministry of Education, Sports, Science and Technology), and Australia's ambassador to Japan, the Hon. Richard Court AC. This was followed by keynote speeches from Osaka University's President Shojiro Nishio, and Professor Caroline McMillen (The Government of South Australia's Chief Scientist), attended by an audience of representatives from over one hundred Japanese and Australian institutions and industries.
The subsequent case-studies session provided an opportunity to present solid examples of cooperation between universities and industries taking place in both countries. These included international collaborations between Toshiba and Melbourne University, and between NTT and Deakin University. Afterwards, participants conferred about future possibilities and issues in each respective field. The subsequent open discussion centered on the necessity of establishing long-term cooperative partnerships in order to achieve success when working together with industries.
Kobe University has strengthened ties with a total of 10 Australian universities through academic exchange agreements. We hope to foster long-term partnerships in order to facilitate academic and industrial cooperation between Australia and Japan.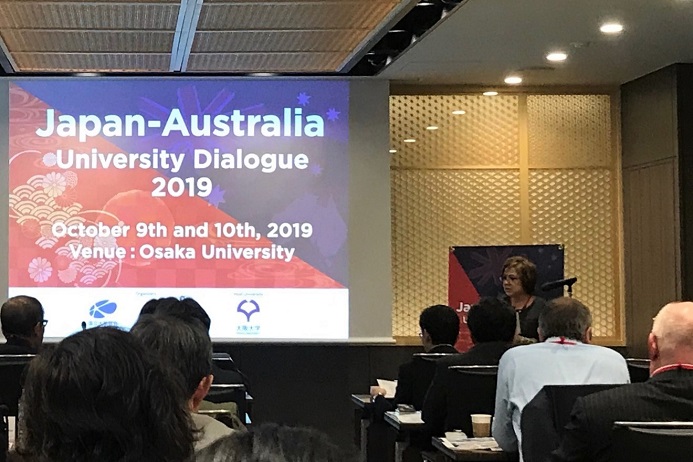 (International Affairs Planning Division)