KU Clubs: The Offshore Sailing Club's secrets to international success
November 1, 2019
Info
Keywords: Info, Students, Leisure & sport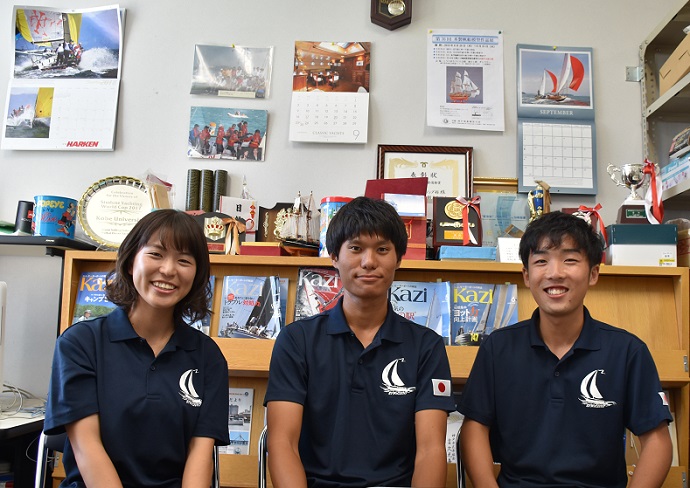 Given Kobe's sea-facing aspect and renown as a port city, it seems hardly surprising that Kobe University is home to a successful and motivated Offshore Sailing Club. In 2017, they won the World Championships in France. More recently, the club came in fifth place in the 2019 J/24 class Japan Championships, with helmsman Shinsuke Sawaguchi qualifying for the 2020 World Championships. We asked the members to explain about their club's regular activities and tell us the secrets to the KU team's success!
Q. First of all, what is Offshore Sailing?
A. Offshore Sailing is not the name of the sport- that would be correctly called 'sailing'.
It is easy to explain what we do if we compare it with a yacht. A yacht is a boat with a two-person crew whereas offshore sailing involves taking part in sea races in a cruiser yacht, with between five to twenty three people on board. We have to plan out the best route to reach the finish line- taking into account the waves, wind and current. It is not just about physical strength but also requires the team to work together using their heads and knowledge.
Not all the members take part in the competitions. Members can choose what they want to be in charge of. People join the club for various reasons, for example because they enjoy cruising or they want to maintain and prepare the boats. As well as practicing for competitions we also take trips on the cruiser yacht to places in Tokushima and Wakayama.
Q. I envy you for that! What are the difficult parts during competitions?
A. There are many people on the boat, each with different roles. If we can't coordinate our movements, we can't go fast. The boat is very big so it needs a lot of power to maneuver it. For example, if you are in the center position, you have to loudly convey what the members in front of you said to the people behind you while remaining in control of the yacht. It is a big responsibility because the final route is decided not just by one person but by everyone. Controlling the yacht requires all the members' strength and thoughts to be unified.
Q. How did you win the World Championships?
A. I think we won, not because we were stronger than the European teams, but because we did our best to work together. Incidentally, the championship took place in the Mediterranean Sea- it was warm and very beautiful!

The Offshore Sailing Club doesn't have fixed training sessions- instead the members split into groups and do various things. There are members who train really hard for the competitions and there are other members who want to enjoy sailing for fun.
I think we are different from the other clubs because members have more freedom do to what they want. They are motivated and train independently- it is this strength that links us together.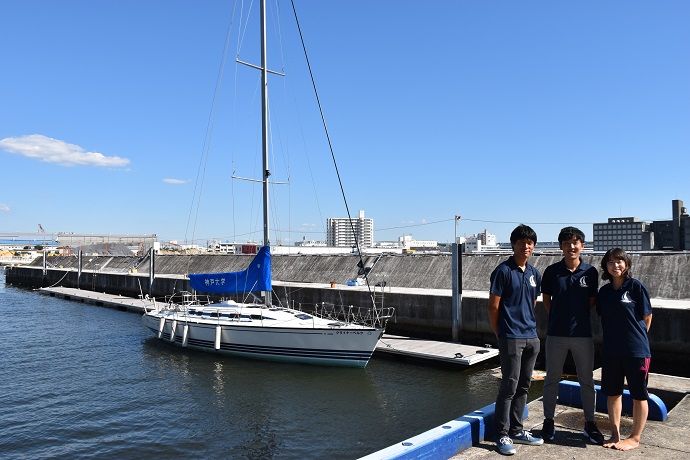 After the interview, we had chance to see the boats- the one in the photo is a cruiser, which costs 100 million yen! All the members go on travels together in this boat.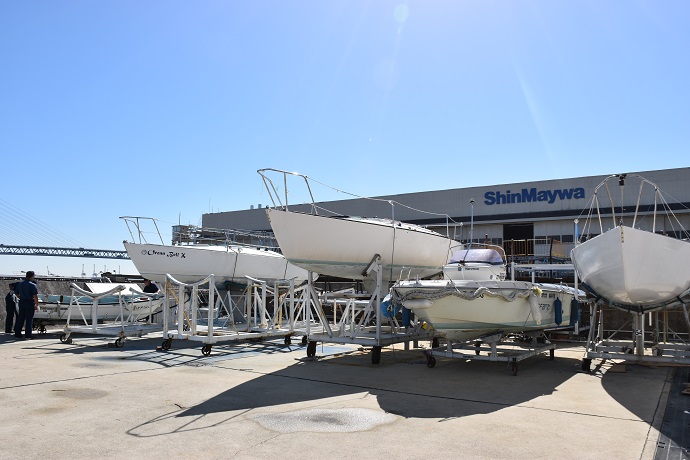 There are not many Offshore Sailing groups and KU's club has the added advantage of having a practice area near the university. The Offshore Sailing Club is recommended for people who want to try something new, and appeals to both casual members and those who want to train seriously.
Links (in Japanese):
Article about their victory in the 2017 World Championships.
Article about their achievements in the 2019 Japan championships. 
Photos: Chiharu Hirooka
This translation was based on an article by Chiharu Hirooka (3rd year, School of Business Administration) which was published on Kobe University's Japanese site on April 20, 2018.
[International Affairs Planning Division]