KU representatives join 5th Japan-Indonesia Rectors' Conference
November 5, 2019
Info
Keywords: International relations, Collaborations, University partnerships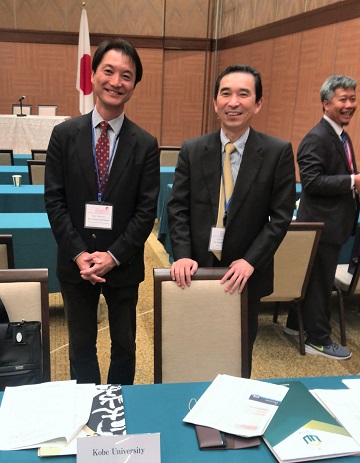 The 5th Japan-Indonesia Rectors' Conference was held in Hiroshima City on October 10 and 11. Hosted by Hiroshima University and organized by national universities from the Shikoku and Chugoku regions of Japan, it attracted representatives from a total of 69 Indonesian and Japanese academic institutions. Executive Vice President Masahiko Yoshii (in Charge of International Exchange) and Mr. Tatsuya Kuwahara (Head of the International Department) attended from Kobe University.
Alternately hosted by Japan and Indonesia, the 5th conference focused on the theme of 'Collaboration in Research and Education for Sustainable and Peaceful Society'. With the International Peace City of Hiroshima providing a fitting location, representatives from the two countries discussed how to work together to foster peaceful societies and achieve SDGs (Sustainable Development Goals) through policies.
The conference began with an opening address by Hiroshima University's President Mitsuo Ochi. His speech highlighted the important role that universities should play in realizing the future with reference to Hiroshima University's 'Science for Sustainable Development' peace-building initiatives. Next, government representatives from both countries addressed the audience. In their speeches, they evaluated how collaborations between universities from both countries could be developed through student exchange, joint research and joint degree programs while at the same time striving towards achieving world SDGs. They also expressed hopes that this conference could serve as a platform for accelerating these aims.
The opening ceremony continued with a keynote speech from former Prime Minister of Japan and current Chairman of the Japan Indonesia Association Yasuo Fukuda. This was followed by a special address from the Chancellor of Prefectural University of Kumamoto, Professor Takashi Shiraishi. Both outlined their expectations regarding increasing developments in academic, scientific research and industry collaborations between the two countries with reference to last year's 60th anniversary of Japan-Indonesia diplomatic relations. They also emphasized the importance of universities in realizing various policy proposals.
For the afternoon breakout session on the first day, participants were separated into education, research and industry cooperation groups. Kobe University joined the research cooperation session, with the theme of 'Sustainable Development'. Various case-studies of research cooperation in different fields were presented. Many universities from both countries are collaborating on research into natural disasters, such as earthquakes and tsunamis. The second day provided an opportunity to reflect upon and exchange opinions regarding the previous day's presentations, confirming the desire to develop and deepen forward-looking collaborations between Indonesia and Japan.
Representatives from each Indonesian university visited Kobe University's booth during the meeting session between individual academic institutions. This included the Vice President of Bandung Institute of Technology, which is collaborating with Kobe's Institute for Promoting International Partnerships, Graduate School of Engineering, and Research Center for Urban Safety and Security. The universities were able to conduct fruitful discussions regarding future collaborations.
The 5th Conference allowed participants to witness the definite progress in Japan-Indonesia university collaborations as well as providing a bridge between each academic institution.
Kobe University currently has inter-university agreements with eight Indonesian universities and has been able to strengthen ties with each of them. We hope to foster long-lasting partnerships with these institutions to deepen academic research and industry collaborations between our countries.

 (International Affairs Planning Division)