Kobe University Overseas Advisory Board meeting held in Brussels
November 7, 2019
Info
Keywords: Info, Research, International relations, Collaborations, University partnerships
An Overseas Advisory Board meeting was held at Kobe University Brussels European Centre on October 23. His Excellences Mr. Herman Van Rompuy (former President of the European Council) and Dr. Hans-Gert Pöttering (former President of European Parliament) were the board members in attendance.
The meeting was chaired by KUBEC's Executive Director Kazunari Sakai. First of all, Kobe University's President Hiroshi Takeda introduced the new members of Kobe University's administration and the staff conducting academic exchange agreements with European institutions since his reappointment as university president in April this year. After that, Professor Matsuto Ogawa (Executive Vice President in charge of Research and Information Management) and Professor Masahiko Yoshii (Executive Vice President in charge of International Exchange and Evaluation) made reports regarding the internationalization of education, and the various research and industry collaborations being conducted by Kobe University. KUBEC's Advisor Patrick Vittet Philippe gave an overview of the activities carried out by the Brussels office this year.
Professor Hiroko Masumoto (Vice President in charge of International Collaboration and International Education) and the Executive Director of the Centre for EU Academic Collaboration, Professor Kenichi Yoshida, were also in attendance from Kobe University.
The two board members pointed out the importance of strengthening connections and boosting cooperation with European governmental organizations and gave their thoughts and opinions on the activities of Kobe University, comparing them to those of universities in Europe. They also discussed the correspondence received from Dr. Ing. Jiří Drahoš (President Emeritus of the Czech Academy of Sciences) regarding KU's academic and research activities.
Kobe University will continue to hold advisory board meetings at our overseas offices to strengthen our governance.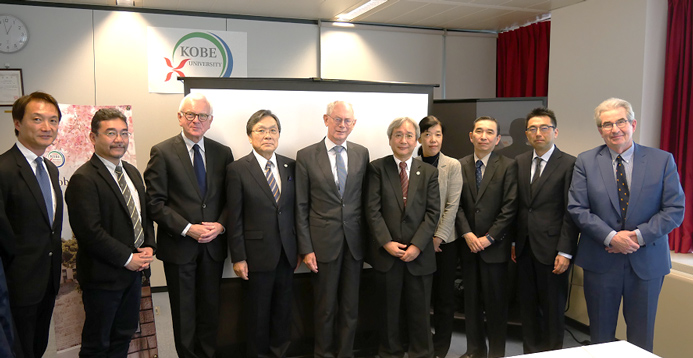 (International Affairs Planning Division)