10th Anniversary Symposium highlights the importance of advanced research collaborations between KU and EU institutions
November 7, 2019
Info
Keywords: Event, Info, Research, International relations, Collaborations, University partnerships, Award
The 10th Anniversary Kobe University Brussels European Centre Symposium took place on October 22 in Brussels, Belgium. The symposium was centered on the theme of "Open Science, Evolving Societies: New Horizons for EU-Japan Research" and attracted a total of 140 policy makers, researchers, students and business people from both Japan and Europe.
KUBEC (Kobe University Brussels European Centre)'s Executive Director Kazunari Sakai presided over the event, and opening addresses were given by Kobe University's President Hiroshi Takeda, Vrije Universiteit Brussel (VUB)'s Vice Rector for Internationalisation Romain Meeusen, Ambassador Kazuo Kodama (of The Mission of Japan to The European Union), and Director-General Jean-Eric Paquet (of the European Commission's DG for Research and Innovation). All expressed hopes that the SPA (Strategic partnership agreement) signed in July last year would led to greater research collaboration between Japan and Europe.
The three breakout sessions covered 1. The EU-Japan SPA and EPA (Economic partnership agreement), 2. Food technology, and 3. Cultural heritage. These sessions provided a platform for presenting the latest research outcomes and policy initiatives, in addition to prospective collaborations. They were attended by researchers and policy makers from Japan and Europe. Interactive workshops corresponding to themes of three sessions followed on from the sessions in the afternoon. In each session, the audience was treated to inspiring presentations that led to question and answer sessions followed by lively discussion. The presenters also had an opportunity to discuss plans for future joint research projects. The symposium's theme of advanced research through EU-Japan cooperation resonated not only with researchers but also with policy makers from both Europe and Japan. 
Closing remarks were made by Kobe University's Executive Vice President Matsuto Ogawa (in charge of Research and Information Management) and VUB's Vice Rector Hugo Thienpont (of Innovation and Industry Relations). They thanked the attendees and  contributors from both universities for making the symposium a success and expressed hopes for the continued expansion of student and researcher exchange between Europe and Japan.
Since the establishment of KUBEC in 2010, Kobe University has succeeded in fostering exchange agreements with 140 influential universities in Europe. Furthermore, since the 7th Brussels Symposium, this annual event has been jointly held with VUB, where the KUBEC office is located. This has led to numerous opportunities for European researchers who are involved in research collaboration with Kobe University faculty to participate in these symposia.
In addition, KUBEC was presented with the Kobe University President's award on October 17 in recognition of its international collaboration efforts in Europe, including the annual Brussels symposium. Kobe University will strive to further strengthen academic and research exchange between Japan and Europe across a wide range of disciplines.
| | |
| --- | --- |
|   |   |
| President Hiroshi Takeda | Vice Rector Romain Meeusen (of Internationalisation at VUB) |
|   |   |
| His Excellency Kazuo Kodama (Ambassador, The Mission of Japan to The European Union) | Director-General Jean-Eric Paquet (of the European Commission's DG for Research and Innovation) |
 
 
The 10th Anniversary Symposium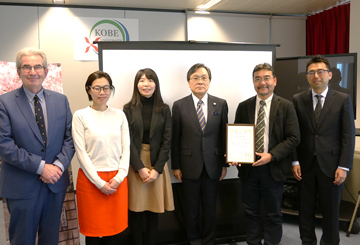 (International Affairs Planning Division)