Vice President Masumoto visits The Free University of Berlin
November 7, 2019
Info
Keywords: Info, Collaborations, University partnerships, Grants & funding, Arts
On October 24, Kobe University's Vice President Hiroko Masumoto (in charge of International Education and International Collaboration) visited The Free University of Berlin to meet with Vice-President of International Affairs Verena Blechinger-Talcott. The aim of Vice President Masumoto's visit to our German partner university was to discuss future collaborations under the new agreement.
Since June 2013, there have been student exchange and cooperation agreements between Kobe University's Faculty/Graduate School of Intercultural Studies and The Free University of Berlin's Art History of East Asia Division in the Department of History and Cultural Studies. These agreements have facilitated successful student and researcher exchanges, in addition to research collaborations. Both universities recently decided to extend their agreements to cover all disciplines, leading to the signing of new inter-university memoranda of academic cooperation and student exchange on August 29, 2019.   
The Vice Presidents talked about their respective universities' organization, past and current research and areas of study. They discussed opportunities for collaboration in various fields, as well as potential faculty and student exchanges.
Vice President Masumoto spoke about the importance of inter-university faculty exchanges, using examples from the recent 10th Anniversary Kobe University Brussels European Centre Symposium held on October 22. Vice President Talcott talked about plans to facilitate research collaboration by inviting Kobe University researchers utilizing grants from the German government and The Free University of Berlin.
We hope that further academic collaborations across a wide range of fields between Kobe University and The Free University of Berlin will be an outcome of this visit.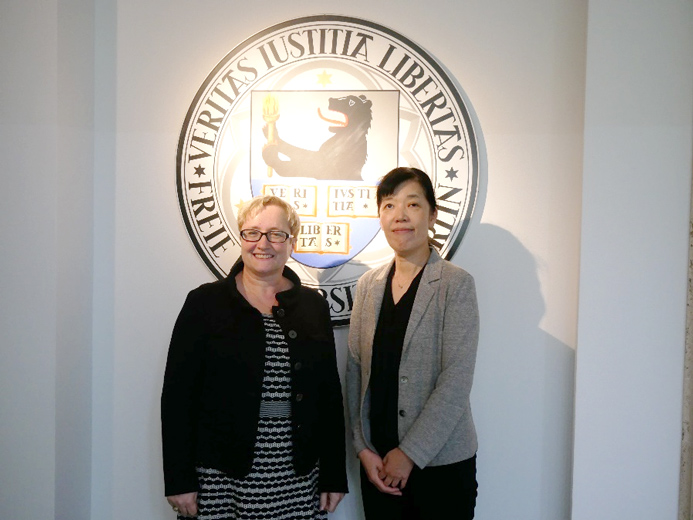 [International Affairs Planning Division]