Kobe University president visits KU Leuven to sign an agreement renewal
November 7, 2019
Info
Keywords: International relations, Collaborations, University partnerships
President Hiroshi Takeda and other Kobe University representatives paid a visit to KU Leuven in Belgium on October 21. Established in 1425, KU Leuven is the oldest university in Belgium. There has been continuous student exchange between Kobe University and KU Leuven since the universities signed an academic exchange agreement in January 2010. KU Leuven is also conducting double degree programs with Kobe's Graduate School of Economics and Graduate School of Intercultural Studies. The aim of this visit was to renew the existing agreement in addition to implementing a new student and faculty exchange scheme between each university's Faculty and Graduate Schools of Law.
The delegation from Kobe University consisted of Executive Vice President Matsuto Ogawa (in charge of Research and Information Management), Executive Vice President Masahiko Yoshii (in charge of International Exchange and Evaluation), Vice President Hiroko Masumoto (in charge of International Education and International Collaboration), Executive Director of the Centre for EU Academic Collaboration Kenichi Yoshida, KUBEC Executive Director Kazunari Sakai and staff members from the International Affairs Planning Division. 
First of all, the Head of Academic Diplomacy Bart Hendrickx introduced KU Leuven's history and organization in addition to giving an overview of the university's current academic research and the Tech Transfer Office. Afterwards, KU Leuven's Rector Luc Sels and the Dean of the Faculty of Law Bernard Tilleman arrived for the signing of both the cooperation agreement and the agreement for the exchange of academic staff and students.
At the pre-signing luncheon, both universities discussed how they could continue to work together- such as by jointly applying for academic grants. Kobe University representatives introduced the activities that they are carrying out in Europe, such as The 10th Anniversary Kobe University Brussels European Centre Symposium, which was held the following day.
The renewed agreement that resulted from this visit will allow Kobe and Leuven universities to continue conducting active exchange. We also hope that this will allow us to expand our cooperation across various areas of study.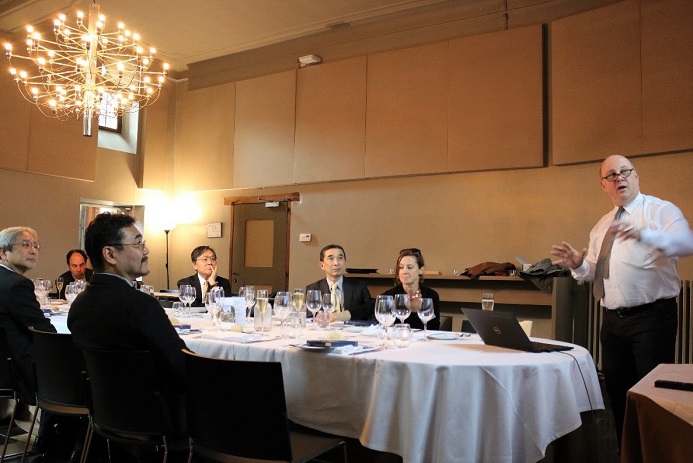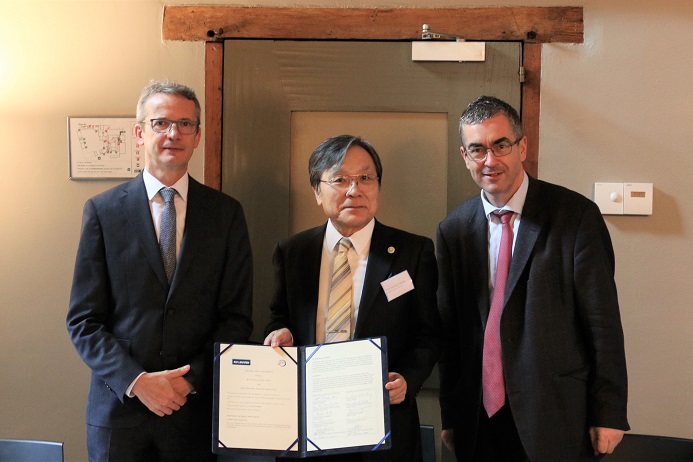 (International Affairs Planning Division)