Visit from the European Commission's Directorate-General for Research and Innovation
November 11, 2019
Info
Keywords: Info, International relations, Collaborations, Grants & funding, Technology, Energy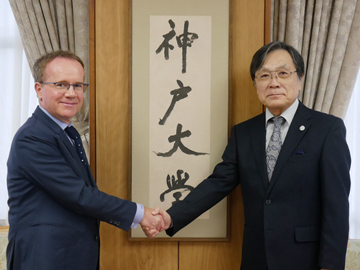 Kobe University's President Hiroshi Takeda was honored to receive a visit from Mr. Pierrick Fillon-Ashida on October 29. Mr. Fillon-Ashida is the senior policy officer in charge of Science, Technology and Innovation cooperation with Japan at the European Commission's Directorate-General for Research and Innovation (DG RTD). Kobe University's Professor Kenichi Yoshida (Executive Director of the Centre for EU Academic Collaboration) also attended their meeting.
This visit came about as a result of the success of The 10th Anniversary Kobe University Brussels European Centre Symposium, held on October 22, at which Director-General Jean-Eric Paquet (of the European Commission's DG RTD) gave an opening speech.
Having attended the 10th anniversary symposium, Mr Fillon-Ashida showed great interest in Kobe University's international exchange activities and active presence in Europe. This led to an opinion exchange about how Japan can increase its participation in European research and innovation funding initiatives such as HORIZON 2020 and HORIZON Europe. Mr Fillon-Ashida expressed hopes that Kobe University academics could make a positive contribution via these funding programs.
Mr Fillon-Ashida also met with Professor Hisashi Tamaki (Dean of the Graduate School of System Informatics) to discuss Kobe University's low energy technological developments to reduce CO2 emissions. Over the past three years, Kobe University has been conducting a project using the Sanchika underground shopping center in Kobe as a model for smart technology which regulates energy usage via monitoring the amount of people and the temperature using sensors. With this project as an example, Professor Tamaki introduced Kobe University's latest 'Smart City' research initiatives.
Mr Pierrick Fillon-Ashida discussed Kobe University's activities in Europe with Professor Yoshida and KUBEC's Executive Director Kazunari Sakai. He also explained about the HORIZON 2020 research funding program.
After his meeting with President Takeda, Mr Fillon-Ashida had the opportunity to see several of Kobe University's research facilities, including the KUHIMM (Kobe University Human Intestinal Microbiota Model) and the Innovative BioProduction Kobe (iBioK) project.
Kobe University will continue to strengthen its academic and research collaborations with Europe through the Brussels Office.
| | |
| --- | --- |
|   |   |
(International Affairs Planning Division)