Opinion exchange meeting on university management held with UK Higher Education delegation
November 14, 2019
Info
Keywords: International relations, Collaborations, University partnerships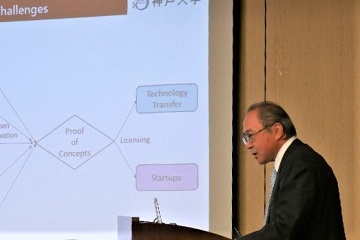 On November 8, Kobe University administrators met with representatives involved in higher education management in the UK. The five-person visiting delegation included Glasgow University's Senior Vice-Principal and Deputy Vice Chancellor Neal Juster, Lancaster University's Dean of the Faculty of Science and Technology, Professor Peter Atkinson, and Edinburgh University's Deputy Secretary Gavin Douglas. They engaged in an opinion exchange regarding university management and operation with Kobe University's Executive Vice President Fumitoshi Mizutani (in charge of Planning, Human Resources and Labor Management), Executive Vice President Masahiko Yoshii (in charge of International Exchange and Evaluation), Executive Vice President Keiji Oda (in charge of Industry-University Cooperation) and Vice President Masahiko Saito (in charge of Mathematical and Data Sciences and Research Promotion).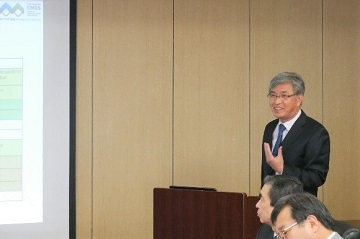 The meeting began with a presentation by Professor Yoshii, in which he introduced Kobe University's history and international collaborations with particular reference to exchanges conducted with universities in the UK. Next, Professor Mizutani explained about Kobe University's vision and organization, while giving concrete examples of the university's financial operations. Following on from this, Professor Oda and Professor Saito each made presentations regarding various university-industry collaborations and the distinguishing characteristics of education at Kobe. The visiting party asked in-depth questions about each topic, and both groups compared and contrasted how universities operate in Japan and the UK. This led to a productive and enlightening discussion regarding various issues relating to higher education in both countries.
Kobe University hopes to strengthen its governance by gaining a wider insight into different ways of running academic institutions through future opinion exchanges with overseas universities.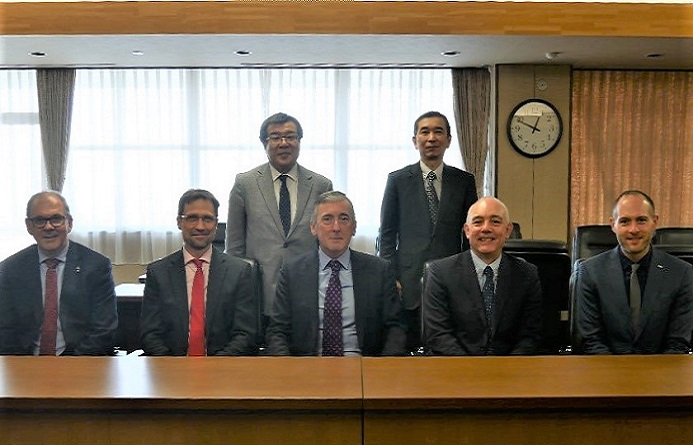 (International Affairs Planning Division)