7th Bruegel-Kobe University Joint International Symposium held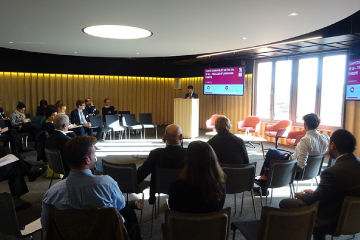 On October 24, Kobe University's Graduate School of Economics hosted the 7th International Symposium in collaboration with Belgium-based think-tank Bruegel.
This Bruegel-Kobe University Symposium was started in 2013 in order to exchange recent research and to deepen the relationship between Kobe University and the world-class economics think-tank. The event has been well evaluated by many attendees for creating an academic space in which to promote knowledge of issues facing Europe and Japan.
The theme of the 7th symposium was 'Competition Policy in the Era of AI -the Case of Japan and Europe', providing an opportunity for the varied participants to engage in lively discussions.
During the symposium, Bruegel and EU Commission researchers gave reports. From Japan, reports were made by Ms. Yuuko Kawai (the Bank of Japan's General Manager for Europe), Mr. Tatsuji Narita (Cabinet Secretariat in the Japanese Government) and Professor Taiji Hagiwara (of Kobe University's Graduate School of Economics). Each speaker shared their deep knowledge of their particular areas, imparting significant information to the 50 attendees.
It is hoped that Kobe University's strong collaboration with Bruegel will continue with the 8th Symposium expected to be held next year.
(Graduate School of Economics/International Affairs Planning Division)