Visit from Eötvös Loránd University
December 5, 2019
Info
Keywords: Research, International relations, Collaborations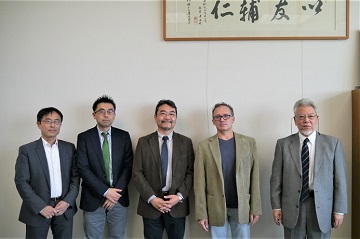 On November 19, the head of Eötvös Loránd University's Department of International Relations and European Studies, Associate Professor Ákos Kopper, was welcomed to Kobe University by Executive Director Ken-ichi Yoshida (of the Centre for EU Academic Collaboration). Their meeting was also attended by Kobe University's Executive Director Kazunari Sakai (of the Kobe University Brussels European Centre), Vice Dean Yoshihiko Shiratori (of the Graduate School of Humanities) and Professor Emeritus Kiyomitsu Yui (of the Graduate School of Humanities)
Eötvös Loránd (ELTE) University was established in Budapest, Hungary in 1635. A memorandum of understanding was signed between Kobe and ELTE universities in November 2016, followed by a student exchange agreement in April 2018. Since then, the two institutions have been conducting active academic exchange, including research collaborations, and student and faculty exchanges. In October this year, ELTE's Rector László Borhy visited Kobe University to give a special lecture on Roman era wall paintings. Furthermore, ELTE and Kobe's project consortium received a grant from the Visegrad Fund, which was established by four eastern European countries (Hungary, Czech Republic, Slovakia and Poland) to fund research, educational and cultural activities. Consequently, many academic events will be held in both Japan and internationally between April 2020 and September 2021.
Executive Director Yoshida began by welcoming Associate Professor Kopper and expressing how delighted he was about the Visegrad grant. Next, Professor Emeritus Yui and Vice Dean Shiratori gave an overview of the various projects between ELTE and Kobe, followed by a lively opinion exchange regarding each one. Representatives from both universities hope to expand the academic network centered on the Humanities and Social Studies through these projects, aiming to realize even bigger projects in the future.
It is expected that these varied collaborations will continue to strengthen ties between Kobe University and universities in eastern Europe.
(International Affairs Planning Division)