Kobe University holds its 16th Homecoming Day for International Students
December 6, 2019
Info
Keywords: Event, Students, Arts, Culture, media & publishing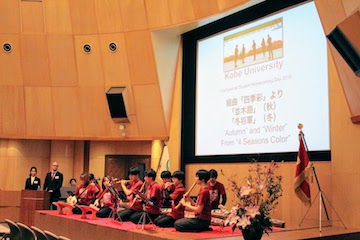 The 16th International Students' Homecoming Day took place in the Rokko Hall in Kobe University Centennial Hall on October 26. Held since 2002, the theme of Japanese culture was chosen for this year's event in keeping with the new Japanese era name of Reiwa.

The event was conducted in both English and Japanese by Masters of Ceremonies Herinean Andrei Marian (Graduate School of Humanities) and Su Meng (Graduate School of Economics). The opening performance was given by members of Kobe University's Traditional Japanese Music Club. The beautiful music lent a fitting atmosphere to the hall.
Executive Vice President Masahiko Yoshii gave the opening address. He referred to the meaning of the Reiwa era name: 'beautiful harmony', and expressed his hopes that the individuality of international students could bloom in such an era.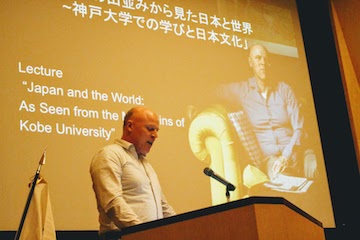 The Homecoming Day's main session is based on the theme of welcoming back successful international graduates to Kobe University. This year's guest speaker was British author and literary critic Damian Flanagan (Graduate School of Cultural Studies, PhD 2000), who gave a presentation entitled 'Japan and the World: As seen from the Mountains of Kobe University'. His speech contained many anecdotes about his time at Kobe University, as well as his experience of the Great Hanshin earthquake in 1995. Towards the end of his speech he proclaimed that "Nowhere else in Japan breathes the air as freely or has vistas so complete and commanding as Kobe University. What students acquire here is a mindset for engaging creatively with the world that will stay with them for life, no matter what part of the world their wanderings take them." He expressed his opinions on the absurdity of World University Rankings, stating that although Kobe University is 395 and Cambridge University (where he obtained his undergraduate degree) is number one, in his mind they are both on the same level.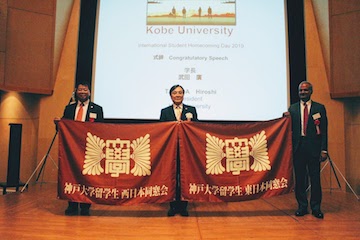 Next, there was an introduction to Kobe University's overseas alumni networks. This session was opened with an address by Kobe University President Hiroshi Takeda and the presentation of the new Alumni Association flags. Professor Park (of the Center for International Education) spoke about the expansion of the exchange student alumni network in Japan and their activities up until the present.
This was followed by a presentation from the presidents of the West Japan and the East Japan branches of Kobe University's International Student Alumni Association. West Japan President Chen Lin (2005 PhD, Graduate School of Natural Sciences) and East Japan President Veerappan Veerasureshkumar (2008 PhD, Graduate School of Law) talked about the decision to split the organization regionally. They also introduced the activities that their organizations are carrying out and their future plans, such as providing job hunting support for current international students and collaborating with Japanese graduate alumni associations.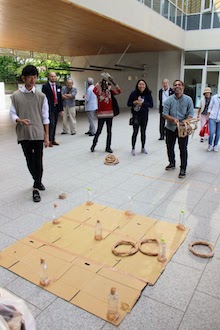 Kobe University's exchange student support group TRUSS also took part in the Homecoming Day by organizing a 'Japanese Festa' for current exchange students. They set up traditional games in the area outside Centennial Hall so that students could enjoy experiencing some aspects of a Japanese festival. Other activities included the opportunity to try Japanese sweets called shirotama dango.
Alumni taking part in the event included former international student Ervan Faucher. Originally from France, Ervan is now working at a Japanese tea company in Uji- an area renowned for the beverage. He introduced a selection of his favorites, giving participants the opportunity to sample fragrant Japanese tea.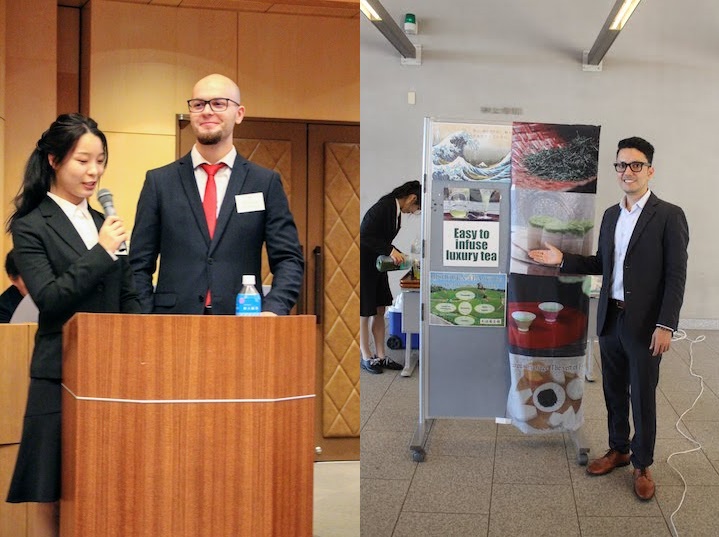 The event was concluded with an 'Alumni Tea Party'- where graduates, past and current exchange students, TRUSS members, and current and retired faculty could mix. Overall, the Homecoming Day was a memorable opportunity for the 90 attendees to reflect upon their time spent at Kobe University.

Damian Flanagan's Presentation (PDF): Japan and the World: As seen from the Mountains of Kobe University.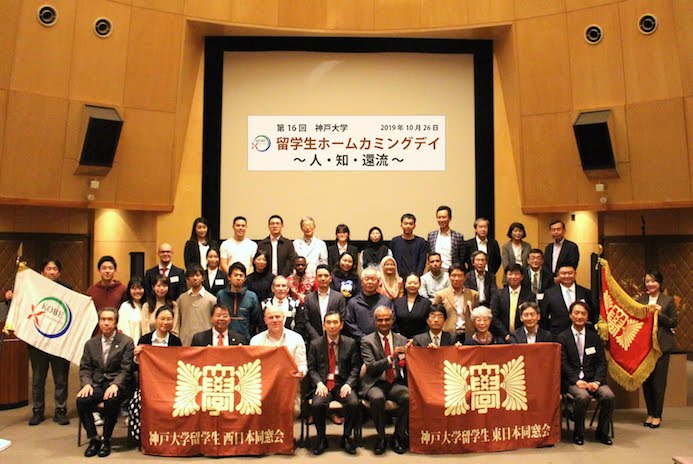 (Center for International Education/International Affairs Planning Division)