KU Clubs: Jigeki- Theater for all Kobe University students!
December 9, 2019
Info
Keywords: Info, Students, Arts, Leisure & sport, Culture, media & publishing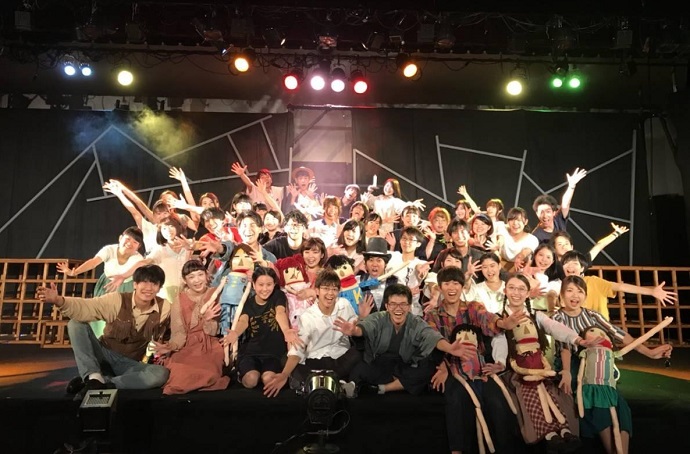 Going to see a play at the theater can have a rather highbrow and inaccessible image. Kobe University's 'Jiyuu Gekijou' student theater group aims to create fast-paced and exhilarating performances that everyone can enjoy. From December 13 to 15 2019, they will put on four performances of Shakespeare's 'A Winter's Tale' (more details at the bottom of this page).
We asked Kazuki Chiba (Faculty of Global Human Sciences, 2nd year*) and Riku Hanayama (Faculty of Economics, 3rd year*), who worked on the 2018 production 'Sly Dogs', to tell us more about Jigeki, their performances and how you can join the group.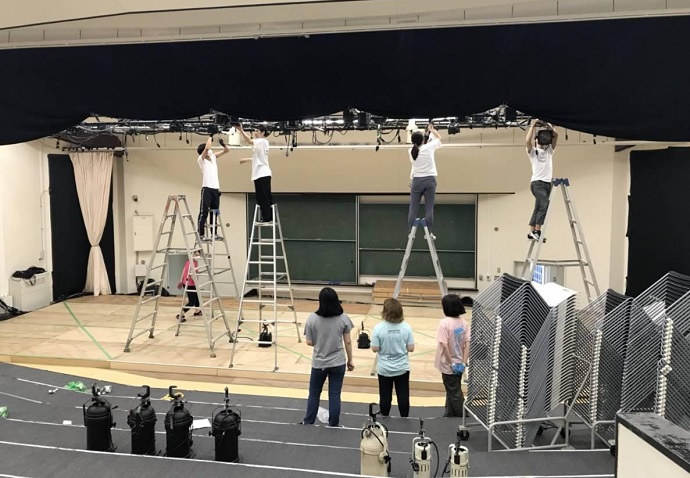 Q. What kind of group is 'Jiyuu Gekijou'?
Mr Chiba: Jiyuu Gekijou, or Jigeki for short, is Kobe University's official theater group which has been going for 42 years. We currently have 63 members studying a wide range of subjects with between 1 to 4 years' experience in the club. We put on five shows a year and 3252 people came to see our performances in 2017. We are the largest student theater group in Kansai.
1600 people came to our first three performances in 2018. Aiming to attract a larger audience than last year motivates me to work hard on the December production!
We start preparing and rehearsing a month and a half before the performance, mainly at the student hall. We meet up 4 times a week; the members work on the aspects that they are responsible for.
To explain this in a bit more detail, the actors practice speech and movement, the design staff make the posters, the lighting crew set up the lights and so on. There is a lot of other work that goes into putting on a show, so everyone helps out. We also have many team meetings and meetings with all the members- everyone strives to make each performance the best they can!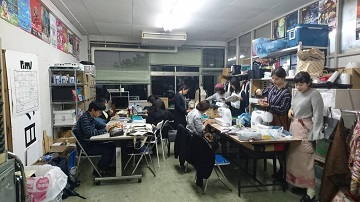 Q. You mentioned that there are many different teams. Please tell us more about them.
Mr Hanayama:There are about nine teams for the current performance, and each team has 4 to 8 members. Here's a simple explanation of the responsibilities of each team:
1. Producer- This is the person in charge of the overall production.
2. Stage Director- Responsible for managing the cast and action in the play.
3. Production- In charge of using SNS and noticeboards to promote the play.
4. Art- They make the stage sets. They are also responsible for making the props when necessary.
5. Sound- Responsible for finding background music and sound effects to add atmosphere to the performance.
6. Lighting- In charge of deciding how to use various lights to illuminate each scene.
7. Choreography- Responsible for choreographing the actors' dance and movements.
8. Costume- Responsible for making the outfits.
9. Promotional art- They make the flyers and posters to advertise the performance.
It's not only about acting; there are many tasks that allow members to express their individuality. We recruit members regardless of school or year, so if you are interested, please contact us! We would be happy to hear from you.
Q. Do you have a message for the readers?
Mr Chiba: I want more Kobe University students to know about Jigeki. We aim to put on an accessible, cinematic performance. Theater plays can have a highbrow image but I would like people to come and see the show without prejudice. We strive to deliver the 'best entertainment to the audience'- so I think you will definitely enjoy it. Also, don't forget about the younger members once we graduate!
Mr Hanayama: I hope that those who come to our shows have an extraordinary time. Everyone is working hard on the next performance, so please come and see it!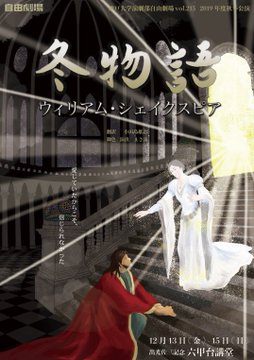 Next Performance:
Kobe University Theater Club 'Jiyuu Gekijou' Autumn/Winter performance Vol. 215:
Fuyu Monogatari (A Winter's Tale)
Author: William Shakespeare
Translation: Yushi Odashima
Director: Masaru
Performance times:
December 13: 17:30
December 14: 13:00, 18:00
December 15: 13:00
Cost: Free
Venue: Idemitsu Sazo Memorial Rokkodai Auditorium (No. 41 on the Campus Map)
Ticket Reservation: https://stage.corich.jp/stage/104101/ticket_apply
(Please note that the performance is in Japanese)
For more information (in Japanese):
*This interview translation was based on an article by Shinga Maeda (3rd year, School of Economics) which was published on Kobe University's Japanese site on November 20, 2018.
(International Affairs Planning Division)