Kobe University economics student formally thanked for contributions to Japanese culture event in Romania
December 11, 2019
Info
Keywords: Info, University partnerships, Students, Culture, media & publishing, International relations
In November, the Japanese embassy in Romania held a 'Japanese culture month' ('Luna Culturii Japoneze'). To match this theme, a 'UBB Japanese culture week' was held at the Japanese Culture Center in Babeş-Bolyai University (UBB). Fourth year Kobe University Economics student Mr. Mitsukazu Mantani, who is studying as an exchange student in UBB's Business Faculty, was a staff member for the culture week. His contributions towards planning and carrying out the event earned him a formal acknowledgement of his efforts from UBB.
Babeş-Bolyai University and Kobe University have been partner institutions since the signing of an agreement in 1998. Subsequently the universities have been conducting active faculty and student exchange. In 2008, two Kobe University-UBB International Collaboration Centres were set up in Babeş-Bolyai's Japanese Cultural Centre and Kobe University's Institute for Promoting International Partnerships respectively.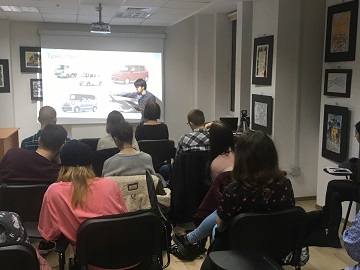 As part of the 'UBB Japanese culture week', Mr. Mantani gave a one hour lecture on Japanese cars as part of a lecture series on November 18. He introduced himself in Romanian (which he is currently learning) and then explained about lightweight automobiles in English. Known as k-cars in Japan, these compact civilian cars are not well known in Romania. Mr. Mantani used quizzes to make his presentation engaging and easy to understand, earning a big round of applause.
Mr. Mantani also organized lectures on anime, manga and Japanese martial arts, as well as a tea ceremony demonstration. He had the opportunity to serve as the projectionist at the 'Cluj Japan Film Festival' organized by the Japanese embassy and the Japan Foundation, and held in the city of Cluj-Napoca where Babeş-Bolyai University is located.
His hard work was acknowledged by both the Dean of UBB's Faculty of Business, Assoc. Prof. Ioan Alin Nistor, and the UBB Japanese Cultural Center Director Prof. Yusuke Sumi in a thank-you letter. This letter was presented to him by Ms. Mio Sekiya of the Japanese embassy in Romania.
(Public Relations Office/International Affairs Planning Division)