Visit from the Vietnamese Ministry of Health and Hanoi Medical University
December 11, 2019
Info
Keywords: International relations, Collaborations, University partnerships
On December 2, a delegation of medical and rehabilitation specialists from Vietnam was welcomed to Kobe University by President Hiroshi Takeda. The visitors included Deputy Head Nguyen Thi Thanh Lich (of the Rehabilitation Dept. of the Vietnamese Ministry of Health) and Associate Prof. Dr. Pham Van Minh (Head of the Rehabilitation Dept. at Hanoi Medical University). The meeting was also attended by the following members from Kobe University; Executive Vice President Masahiko Yoshii (in charge of International Exchange and Evaluation), Vice Dean Rumi Tanemura and Researcher Natsumi Asami (both of the Graduate School of Health Sciences).
Established in 1902, Hanoi Medical University is the oldest university in Vietnam specializing in medical studies. The university fosters positive collaborations with overseas institutions and is carrying out a number of national and international projects.
In April 2017, Hanoi Medical University and Kobe University's Graduate School of Health Sciences set up a project to support the development of Rehabilitation human resources to care for elderly people in northern Vietnam. The project was selected by JICA (Japan International Cooperation Agency) as part of its grassroots partnership system. Over the next 3 years, the two universities will develop projects to educate medical industry personnel in Hanoi.
President Takeda began the meeting on December 2 by welcoming the visitors and saying how pleased he was regarding the continued cooperation with Hanoi Medical University. Next, Associate Prof. Dr. Minh outlined the aforementioned project and expressed appreciation for Kobe University's contribution. The delegation explained that the occupational therapist system is not yet fully developed in Vietnam and expressed their hopes that this project could change this.
Kobe University hopes to benefit global society by continuing to make positive contributions via such international projects.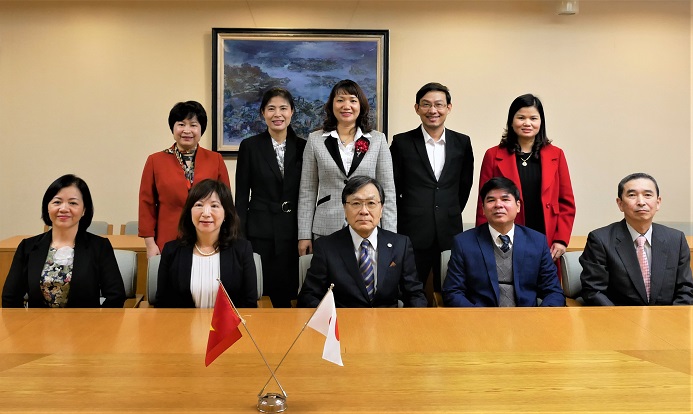 (International Affairs Planning Division)