Visit from the Chinese University of Hong Kong, Shenzhen
December 17, 2019
Info
Keywords: International relations, Collaborations, University partnerships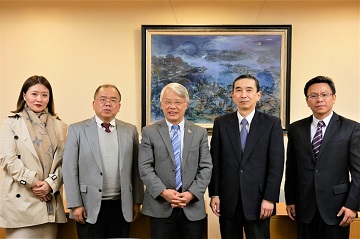 On December 3, Vice President Shiping Zhu (for External and Student Affairs) of the Chinese University of Hong Kong, Shenzhen was welcomed to Kobe University by Executive Vice President YOSHII Masahiko (in charge of International Exchange and Evaluation). The meeting was also attended by Kobe University's Professor Huang Lin (Vice-Director of the Center for Asian Academic Collaboration).
The Chinese University of Hong Kong, Shenzhen is a higher education institution that was established in 2012 as a joint venture between the Chinese University of Hong Kong and Shenzhen University. It currently has five schools;  Management & Economics, Science & Engineering, Humanities & Social Science, Life & Health Sciences and Data & Decision Analytics. The university is planning to establish two new schools, of medicine and of music respectively. There are currently about 5,600 students studying at the institution and the university's future goal is to attract 18,000.
First of all, Vice President Zhu gave a presentation introducing the Chinese University of Hong Kong, Shenzhen. He explained about the university's background, international strategy and its location in Shenzhen, a city known as China's global technology hub. Regarding international strategy, Vice President Zhu spoke about the features of the university, which included the overseas research experience of its knowledgeable faculty and the fact that the vast majority of courses are conducted in English. He also explained the university's various options for students to study abroad while obtaining their degrees. Subsequently, Executive Vice President Yoshii gave an overview of Kobe University. This was followed by a lively opinion exchange regarding how the two universities could implement academic exchange.
It is hoped that this meeting will lead to active exchange between the Chinese University of Hong Kong, Shenzhen and Kobe University.
(International Affairs Planning Division)