Visit from Gujarat University
December 17, 2019
Info
Keywords: International relations, Collaborations, University partnerships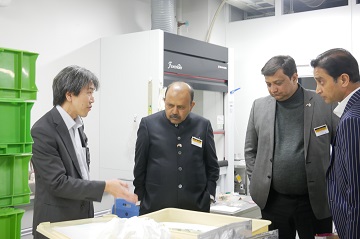 A higher education delegation from the state of Gujarat in India, led by Vice Chancellor Himanshu A. Pandya of Gujarat University, visited Kobe University on December 9. They met with Executive Vice President YOSHII Masahiko (in charge of International Exchange and Evaluation).
Gujarat University was established in 1949 and currently has 14 faculties. Located in the major city of Ahmedabad, it is the state's largest public university. Hyogo Prefecture and Gujarat state entered into a collaborative agreement in 2016, centered on economics. Furthermore, a Letter of Intent was exchanged between Ahmedabad and Kobe in June 2019, which is expected to enhance the economics-focused collaborations between the two cities. The higher education delegation from Gujarat visited Kobe at the same time as the mayor of Ahmedabad. They requested to visit Kobe University as part of this trip.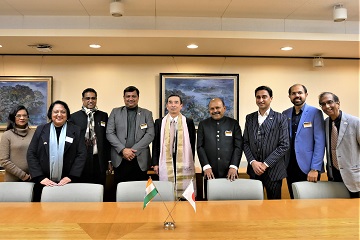 The meeting began with Executive Vice President Yoshii welcoming the delegation and expressing how delighted he was about developing exchange at a regional level. Following on from this, Executive Vice President Yoshii gave an overview of Kobe University and Vice President Pandya introduced Gujarat University and its international collaborations. Both institutions discussed the possibility of academic exchange.
Prior to the meeting, the delegation went on a tour of Kobe University's Research Center for Membrane and Film Technology. Associate Professor KAMIO Eiji (of the Graduate School of Engineering) explained about the center's latest advanced research.
India has witnessed rapid economic success in recent years. It is hoped that meetings like this will lead to inter-university academic collaborations and deepen regional exchange between cities.
(International Affairs Planning Division)