Kobe University attends the PhD Workshop China 2019 in Beijing
December 20, 2019
Info
Keywords: International relations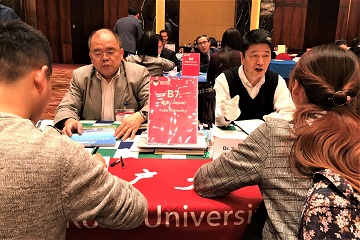 Kobe University took part in the PhD Workshop China 2019, which was held in Beijing on November 23 and 24. This workshop has been held every year since 2009 to facilitate information exchange and interviews between overseas universities and post graduates who are interested in obtaining a doctoral degree outside China.
This year's event was attended by around 65 universities from fourteen countries around the globe with a total of about 150 interview booths. It was Kobe University's fifth time participating in the workshop, and Professor Huang Lin (Vice-Director of the Center for Asian Academic Collaboration) and Professor Sun Yuping (of the Graduate School of Engineering) attended.
Students attending the workshop had come from not just Beijing but all over China. Kobe University's booth was visited by a total of 103 students over the two-day period, with 54 students from science-related and 49 students from humanities-related backgrounds. The students being interviewed were very passionate and had many questions regarding details about research content, entrance exams for each graduate school, necessary strengths and qualifications, scholarships and tuition fees. Among the interviewees, there were proactive students who had already researched potential professors to supervise their PhDs.
By participating in this workshop, Kobe University hopes to increase the number of outstanding PhD students from China who study abroad at Kobe.
 (International Affairs Planning Division)