Visit from the Australian Consulate-General in Osaka
January 31, 2020
Info
Keywords: International relations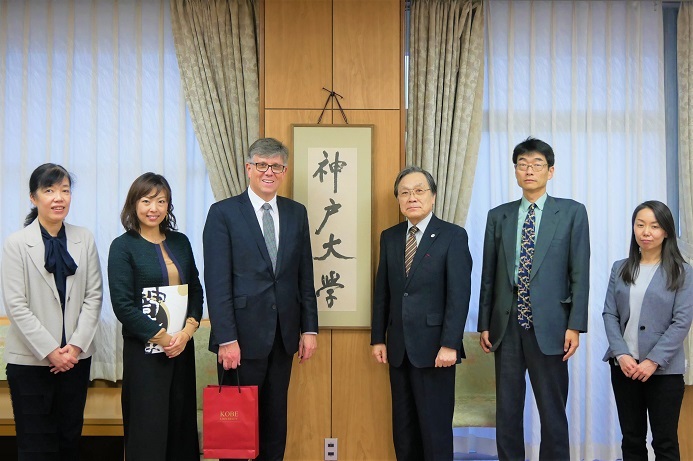 On January 23, Consul-General David Lawson from the Australian Consulate-General in Osaka visited President TAKEDA Hiroshi. Their meeting was also attended by TOMINAGA Saori (Business Development Manager (Education) at the Australian Consulate-General). From Kobe University, Vice President MASUMOTO Hiroko (in charge of International Education and International Collaboration), Professor KAWAI Naruo and Dr. SAITO Miho (the head and the deputy head of the International Student Section of the Center for International Education, respectively) were in attendance.
Prior to his meeting with Kobe University's president, Mr. Lawson gave a lecture as part of the Center for International Education's Kobe Japanese Program that was currently underway. Afterwards, he had a lively exchange of opinions with the attending students regarding topics such as the Japanese economy and career paths.
At the meeting, Professor Kawai began by giving an overview of the Kobe Japanese Program and Mr. Lawson described how the students had listened intently to his lecture. Next, President Takeda gave an outline of the plans to establish a Kobe University Overseas Office in Western Australia.  The attendees from the Consulate-General expressed their hopes that the office would provide a platform for furthering academic exchange between Kobe University and universities in Western Australia. The conversation turned to current affairs including the abnormal weather and the reform of the university entrance exam system. The lively atmosphere continued with both parties confirming their intentions to cooperate on developing academic exchange between the two countries.
Kobe University is continuing to conduct various academic collaborations with Australian institutions, including student and researcher exchanges. It is hoped that these collaborations can be further strengthened through working with Australia's international relations organizations, such as the Australian Consulate-General in Osaka.
(International Affairs Planning Division)