Visit from the Embassy of Turkmenistan
March 4, 2020
Info
Keywords: International relations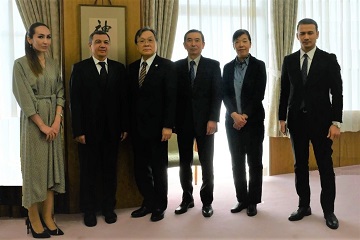 On February 19, President TAKEDA Hiroshi welcomed a visit from the ambassador extraordinary and plenipotentiary of Turkmenistan to Japan, His Excellency Curbanmamet Elyasov. Their meeting was also attended by the embassy's third secretary Govher Berdiyeva and attaché Serdar Annagylyjov, and Kobe University's Executive Vice President YOSHII Masahiko (in charge of International Exchange and Evaluation) and Vice President MASUMOTO Hiroko (in charge of International Education and International Collaboration).
President Takeda began by welcoming the guests. He explained that although there is no academic exchange between Kobe University and universities in Turkmenistan at present, he hoped that this would change in the future. He also mentioned that there is currently a student from Turkmenistan studying at Kobe University. Ambassador Elyasov outlined economic collaborations between Turkmenistan and Japan, focusing on those involving Turkmenistan's natural gas reserves. He also explained about the active collaborations between the two countries in the education and scientific fields in recent years.
Next, Executive Vice President Yoshii introduced the opportunities for collaboration through JICA (Japan International Cooperation Agency) projects. He also talked about Kobe University's Graduate School of International Cooperation Studies' experience accepting international students from around the world. The meeting concluded with the Turkmenistan delegation and the Kobe University representatives confirming the possibilities for commencing academic exchange.
This year marks 25 years since the recognition of Turkmenistan's permanent neutrality by the UN, and anniversary events are due to take place in Japan as well. It is hoped that the results of this visit will provide an opportunity to strengthen academic cooperation between the two countries.
(International Affairs Planning Division)