Professor William Sacks of Sorbonne University gives lectures as a visiting professor at Graduate School of Engineering
June 16, 2020
Info
Keywords: International relations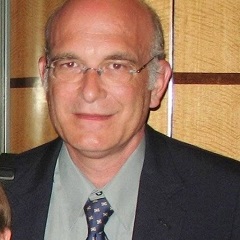 Professor William Sacks of Institute of Mineralogy, Physics of Materials and Cosmochemistry (IMPMC), Sorbonne University, France, has obtained a visiting professorship. He will give lectures on "Advanced science and Technology" at the Graduate School of Engineering, Kobe University from June 1 to the end of September this year. Professor Sacks is a physicist involved in research on material physics, especially material development related to superconducting materials. He is spending his sabbatical in Japan from January to August. He has visited Japan frequently in the past and has conducted many successful joint research projects with AIST Tsukuba, Tokyo University of Science, Okayama University, etc., and has been in charge of many lectures on physical and scientific English. He is at present staying at Okayama University as a visiting researcher.
Last year, he was appointed as a visiting professor at the Graduate School of Engineering after receiving an introduction from Okayama University through the International Planning Division. Originally, he was supposed to be in charge of lectures on advanced science and technology at the Graduate School of Engineering from June to July, and hold discussions with related departments such as Electrical and Electronic Engineering and Chemical Science and Engineering. Unfortunately, his lectures will be carried out as remote classes due to the spread of the novel coronavirus. Nevertheless, he is enthusiastic about preparing for the lectures to be held in the 2nd quarter and interacting with all the students.
Professor Sacks will give lecture series from June 29 to August 3 entitled 'Advanced Science and Technology A (Chemical Science and Engineering)', which is related to "The Diversity of Materials: from Nature to Nanotechnology (1) Materials for their bulk properties (2) Surfaces and nano-objects", and 'Advanced Science and Technology B (Engineering 5)' on "Modern advances in materials for science and engineering", which covers solid state physics/magnetic materials and superconductors.
This invitation program is supported by the Masuda Kenjiro and Shoichiro Scholarship Fund (for inviting foreign researchers).
 - Greeting from Professor Sacks
Dear students:
As you know, this is an unusual year with the highly unwanted health problem: the COVID-19 virus.
In everyone's interest, it is likely that the beginning of my course will still be online, although I am  residing not far away in Okayama city. Lectures will be held on Monday and Wednesday afternoons, as planned, and you will have all the slides and lecture notes made available to you. I suggest that we choose another free period in your timetable for the open forum (office hours) for questions and answers. I particularly look forward to these sessions, as we will all profit from such a scientific exchange. Please note that I am dedicated to helping with your scientific English proficiency, as well as your science knowledge.
William Sacks
- References
http://www.impmc.upmc.fr/fr/equipes/design_et_etude_de_nouveaux_materiaux_a_proprietes_remarquables/liste-des-membres/william-sacks.html
http://www.edu.upmc.fr/physique/sacks/ws_cv.htm
https://www.researchgate.net/profile/William_Sacks2
 (Graduate School of Engineering)