Kobe University receives 10m. yen research grant from Sumitomo Mitsui Trust Bank to develop coronavirus vaccine
July 20, 2020
Info
Keywords: Info, Research, Grants & funding, Medical & pharmaceutical, Health
Sumitomo Mitsui Trust Bank Ltd. has presented Kobe University with a 10 million yen grant to support research into a vaccine for the novel coronavirus. This donation comes from the financial institution's 'Account for Donations to Develop Vaccine and Medicine to Treat COVID-19', which aims to support universities that are developing a vaccine or treatments to tackle the virus. In Kobe University's case, this funding will aid the vaccine development research conducted by Professor MORI Yasuko et al. at the Graduate School of Medicine's Center for Infectious Diseases.
The presentation of the donation took place on July 8 on the University's Rokko-dai campus. From Sumitomo Mitsui Trust Bank Ltd., Senior Managing Executive Officer TANAKA Naohiro and TAKAHASHI Hideya, the Head of General Affairs at the Osaka main branch, were present. In attendance from Kobe University were President TAKEDA Hiroshi, Executive Vice President ODA Keiji, the Graduate School of Medicine's Dean FUJISAWA Masato and Professor MORI Yasuko (of the Center for Infectious Diseases).
Mr. Tanaka presented President Takeda with a representation of the 10m. yen donation. In return, President Takeda presented the bank representatives with a letter of appreciation and expressed his heartfelt gratitude for the grant. Afterwards, Professor Mori gave an outline of the research into developing a novel coronavirus vaccine.
Kobe University is aiming to develop an immunization vaccine for novel coronavirus from existing chicken pox and shingles vaccines, and is conducting joint research with The Research Foundation for Microbial Diseases of Osaka University. Professor Mori commented, 'We are aiming to develop a vaccine for novel coronavirus. To achieve this, I would like to use the grant to set up a P3 laboratory for handling the novel coronavirus and conducting virological analyses.'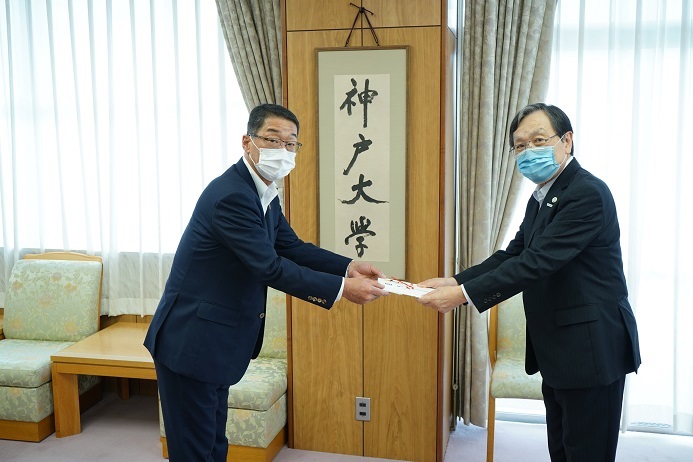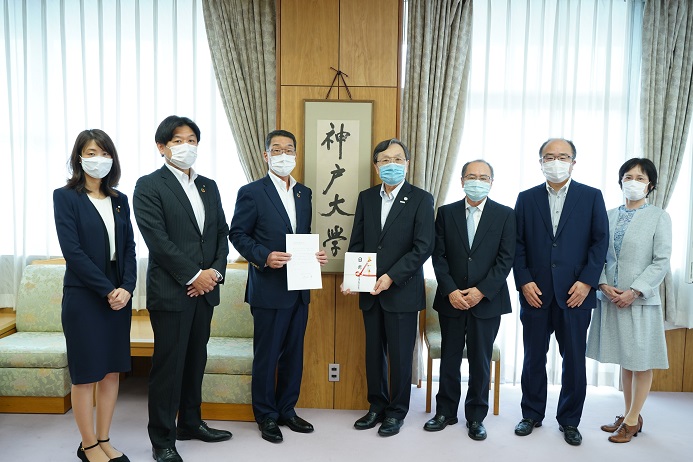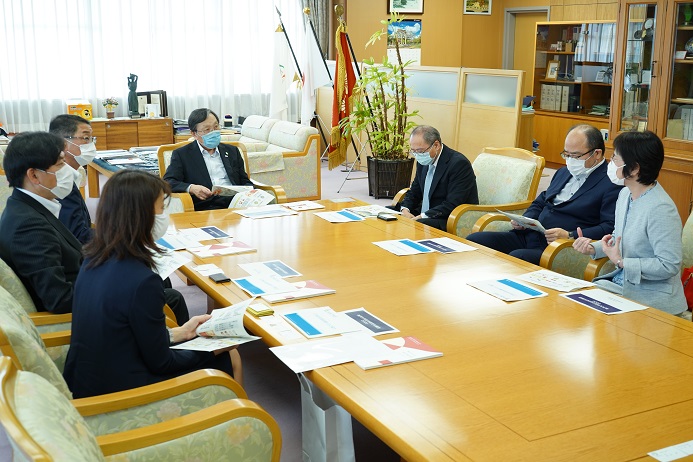 (School of Medicine General Affairs Division/International Affairs Planning Division)