Kobe University 'With COVID-19' symposium held to consider how societies can co-exist with novel coronavirus
August 3, 2020
Info
Keywords: Info, Research, Society, Health
On Thursday July 2nd, the 'Kobe University 'With COVID-19' symposium: Considering how society can coexist with novel coronavirus' was held online. The event consisted of three lectures and a panel discussion and 260 people joined the event via Zoom (260 was the highest number taking part simultaneously; 343 people pre-registered for the symposium).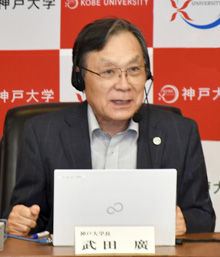 The event started with an opening address from President TAKEDA Hiroshi, in which he expressed his wishes of recovery for all those that are suffering from COVID-19 and his gratitude towards those working in hospitals. He also stated that this symposium was held in accordance with the University's mission to move forward with and contribute to society.
The lectures began with Executive Vice President SUGIMURA Kazuro (in Charge of Hospital, Student Affairs and Risk Management) explaining aspects of the novel coronavirus, including the pandemic situation, symptoms, diagnosis, treatment and antibody testing. Secondly, Associate Professor HATTORI Yasuhiro of the Graduate School of Business Administration talked about the impact of the novel coronavirus on both industrial and individual levels by presenting a results analysis based on questionnaire answers from businesses and individuals. Lastly, Executive Vice President OGAWA Matsuto (in Charge of Research, Environment and Information Management) introduced over fifty Kobe University research projects that aim to create a social system corresponding to the COVID-19 crisis.
Executive Vice President
SUGIMURA Kazuro
Associate Professor
HATTORI Yasuhiro
(Graduate School of Business Administration)
Executive Vice President
OGAWA Matsuto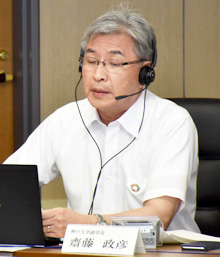 The panel discussion was moderated by Vice President SAITO Masahiko (in Charge of Mathematical and Data Sciences and Research Promotion). The ensuing discussion focused on how society can co-exist with the novel coronavirus from multiple angles, including medical, economical, technological, cultural and administrative aspects. Director General TANIGUCHI Masumi, of Kobe City's Planning and Coordination Bureau spoke about Kobe City's current circumstances in relation to the city's strategic measures against the novel coronavirus. He also introduced Kobe city's future visions for urban planning, as well as high-priority goals and crucial ideas regarding the novel coronavirus. Dean OKUMURA Hiroshi (Graduate School of Humanities) presented historical and cultural factors as to why the novel coronavirus hasn't spread as widely in Japan. Panelists addressed topics such as the need for people to stay connected both online and offline.
Director General
TANIGUCHI Masumi
(Kobe City Planning and Coordination Bureau)
Dean OKUMURA Hiroshi
(Graduate School of Humanities)
Moderator ANNO Eri
(Institute of Promoting Academic Research Programs)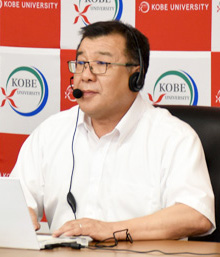 The event ended with a closing address from Executive Vice President MIZUTANI Fumitoshi (in Charge of Planning and General Affairs), in which he thanked those who joined the symposium.  He also expressed his aspirations for Kobe University to continue to accumulate multifaceted knowledge and contribute towards shaping the next era. With these closing words, the symposium was brought to a successful conclusion.

Related links
(Office of Research Management/Division of Research Management)