Kobe University's Graduate School of Medicine/School of Medicine and Tianjin Medical University hold International Academic Exchange Meeting
October 14, 2020
Info
Keywords: Info, International relations, Collaborations, University partnerships, Medical & pharmaceutical
An international academic exchange meeting was held online between Kobe University's Graduate School of Medicine/School of Medicine and Tianjin Medical University on August 7.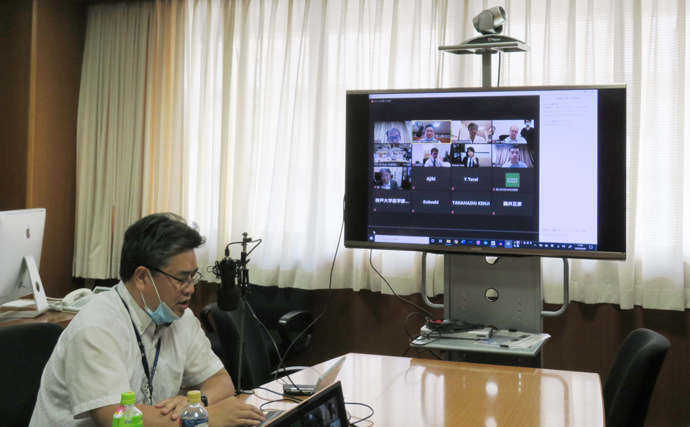 Kobe and Tianjin established the first friendship city relationship between Japan and China in 1973. Their cooperation has grown since then; for example the 45th anniversary in 2018 was marked by events such as an international medical exchange symposium held in Tianjin. Furthering this history between the two cities, Tianjin Medical University and Kobe University Graduate School of Medicine/School of Medicine entered into an academic exchange agreement in May 2019 with the aim of promoting exchange across medical fields.
The international academic exchange meeting was held with the participation of 9 faculty members from various medical departments of Kobe University, and 17 faculty members from various medical departments of Tianjin Medical University. The event was initially scheduled to take place in Kobe City but it was decided to hold it online due to the spread of COVID-19.
On the day, Kobe City's Director in charge of Medical Policy HANATANI Tadaaki gave a special lecture introducing KOBE Biomedical Innovation Cluster (KBIC) and its aims to contribute internationally by providing new medical services and advanced medical technology beginning with other Asian countries. After the lecture, Kobe University and Tianjin Medical University conducted exchange on three medical fields; gastrointestinal medicine, breast surgery and urology.
Members from both institutions introduced each field, gave lectures and exchanged information regarding the latest advanced technology, resulting in a lively discussion. In recent years there has been considerable ongoing progress in China's medical fields and many impressive aspects regarding the scale of this progress. Participants from Kobe University were greatly inspired by this and have big aspirations for future exchange.
Kobe University is currently collaborating with Kobe City on the 'Kobe Vision for the Healthcare of Tomorrow', a publicly funded project to revitalize local industry and universities, which aims to develop KBIC. The University is also conducting advanced research and development in the field of medical devices, focusing on robotics that can assist surgery. China is also aiming to further develop its medical industry and has large-scale advancement plans, such as creating extensive medical industry clusters.
The development of international medicine is currently facing extremely difficult circumstances due to COVID-19, however new methods that have been implemented as a response to this, such as online consultations, have great potential.
Tianjin City/Tianjin Medical University and Kobe City/Kobe University are expected to achieve substantial synergy through working together as they are striving towards the same goals. It is hoped that the spread of COVID-19 will be halted quickly, allowing both cities and both universities to further increase their cooperation.
(General Affairs Division of the School of Medicine)