Visegrad Project Workshop held online
November 24, 2020
Info
Keywords: International relations, Collaborations, University partnerships
On October 23 and November 5, Kobe University held an online Visegrad Project Workshop entitled "Comparing Responses to Global Transformations - Regime Changes in the V4 and Japan".
Kobe University has been selected to receive the Visegrad Grants, and consequently began offering a new course from October this year on social structure and global society post-Corona. This involves comparing aspects of Japan with those of countries in Central and Eastern Europe, which have experienced systemic changes and are dealing with globalization. The course is run in cooperation with researchers from the following partner universities in the V4 countries: Jagiellonian University (Poland), Eötvös Loránd University (Hungary), Comenius University (Slovakia), and Charles University (Czech Republic).
The workshop was attended by Professor Emeritus YUI Kiyomitsu and Professor SHIRATORI Yoshihiko from Kobe University's Graduate School of Humanities. They discussed course management and future project progress with researchers from each of the V4 countries, as well as with FUJII Mami, the director of the Japan Foundation, Budapest. Patrick Vittet-Philippe, advisor to the Kobe University Brussels European Centre, was also invited to exchange views on the future expansion of international exchange activities between Kobe University and the V4 universities.
Kobe University was also selected to receive the Visegrad Grants in 2017 and has been actively engaged in international exchange activities, including project implementation, with partner universities in Central and Eastern Europe. Through these activities, Kobe University will promote stronger cooperation in education and research between Japan and Central and Eastern European countries.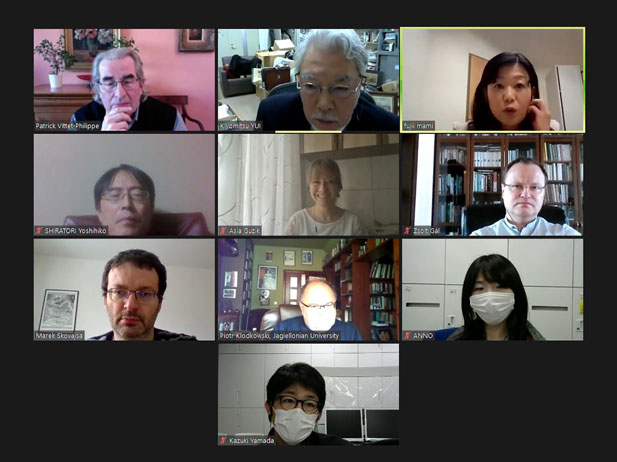 (International Affairs Planning Division)