Visit from the Embassy of Bosnia and Herzegovina
January 8, 2021
Info
Keywords: International relations, Collaborations, University partnerships
On December 25, President TAKEDA Hiroshi welcomed a visit from the ambassador extraordinary and plenipotentiary of Bosnia and Herzegovina in Japan, His Excellency Dr. Sinisa Berjan. Their meeting was also attended by Kobe University's Executive Vice President YOSHII Masahiko (in charge of Human Resources, International Exchange and Evaluation), Vice President MASUMOTO Hiroko (in charge of International Education and International Collaboration) and YOSHIDA Ken-ichi (Executive Director of the Centre for EU Academic Collaboration / Graduate School of Science, Technology and Innovation).
President Takeda began by welcoming the guest from the embassy. He explained that although there has been little academic exchange between Kobe University and universities in Bosnia and Herzegovina so far, a student from the country studied at Kobe University in the past. President Takeda then added that he would welcome further cooperation in the future. Next, Executive Vice President Yoshii introduced Kobe University's activities in Europe, such as the Kobe University Brussels European Centre symposia.
Ambassador Berjan gave an overview of the key research fields for universities in Bosnia and Herzegovina. He also expressed his desire to expand cooperation with Kobe University and exchanged opinions on the possibilities for commencing academic exchange.
It is hoped that this visit will result in opportunities to promote academic cooperation between universities in the two countries.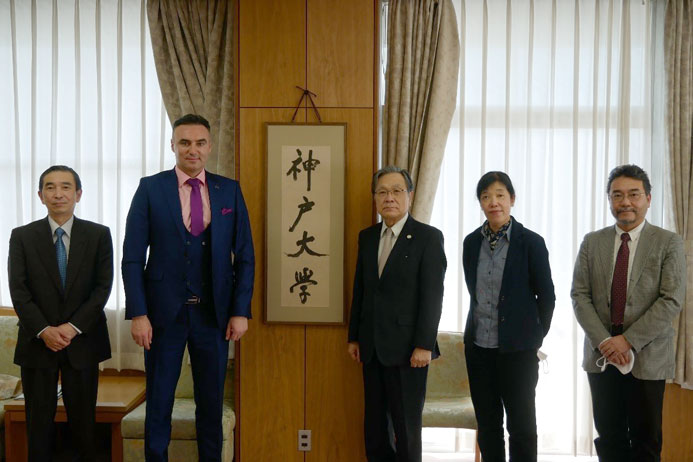 (International Affairs Planning Division)